IKEA's Winter Collection Has Us Looking Forward To Cozy Weather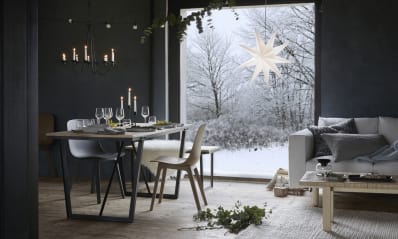 (Image credit: IKEA)
We're not even a month into autumn, but IKEA is already thinking ahead to winter. And as much as we love fall, the Swedish retailer's new collection has us excited to nest and get cozy. Check out what's coming up in their VINTER 2017, which will be in stores this month.
The collection is inspired by the rugged beauty of Iceland, it lets you add a touch of nature to your home. Mostly featuring natural materials and warm, muted tones, there are pieces to "make holiday decoration and gift-giving easier and more rewarding than ever, with a timeless feel that works regardless of the season or occasion."
Tops on our shopping list are the knit-patterned dinnerware and serveware, that adds dimension and coziness to something that's often cold. There's even a plant pot ($2.99) so you can wrap your greenery in some sweater-like texture.
Even stemware ($1.99) is sporting a subtle geometric pattern, one that's echoed on a tray, a rug, dish towels, and other VINTER 2017 items that don't have to be stashed away once the days start getting longer.
If you're one to be drawn to some sparkle, the iridescent chandelier-shaped hanging decorations ($19.99) look like a cross between a unicorn and Elsa's ice castle (and we're not mad about it). There's also a medieval meets Scandi style candle chandelier ($19.99) that could even work for a chic Halloween look.
Here are some other fun items from the collection:
A simple coffee pot ($19.99) and sugar and creamer set ($7.99) that looks great on any table.
An adorable advent calendar ($9.99) in the form of tiny gift boxes.
Trim your tree with some precious tiny houses ($4.99/3 pack).
Cozy knit cushions ($14.99) have a button closure for a true sweater weather feel.
Check out the VINTER 2017 collection online or in stores starting this month.