In One Mississippi, Tig Notaro Challenges Small Town Southern Stereotypes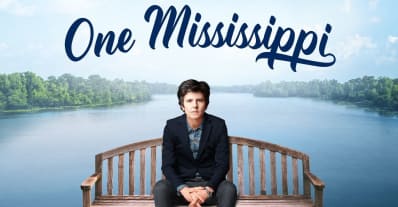 (Image credit: Amazon)
Joining the camp of Emmy-winning Transparent is a new season of an Amazon comedy that might make you tear up more than laugh out loud – but it's a great watch all the same.
One Mississippi may be the creation of a talented comedic mind, but Tig Notaro's show based largely on true events from her life is not a gut-buster. Season one dealt largely with the death of her mother and Tig's own serious illnesses, and teased some mystery behind a life she never knew her mom had. While it covered heavy topics like loss and grief, it also had bursts of surrealism and dark humor, especially when the viewer really needed it. It also introduced a potential love interest for Tig's character in the form of Kate, played by Tig's real-life wife, Stephanie Allynne.
Season two, which dropped on Amazon on Friday, picks up about where it left off, with Tig deciding to stay in her home state rather than moving back to L.A. This choice has a lot do with the presence of Kate – in One Mississippi, Kate and Tig work together at a radio station, but the early episodes I've seen of the new season indicate that there will be parallels to how Notaro and Allynne got involved in real-life. The couple have talked openly about how, before they got together, Allynne had identified as straight. But, as told by the lovely Netflix documentary, Tig, the two became friends before falling in love. Season two is shaping up to be an interesting telling of what it means to be an out, gay woman in small-town Mississippi, and to fall in love.
While these early season two episodes do tackle how hard it is to be out of the closet in the south, Notaro has also said it was important to her that her project show the Mississippi that she knows and loves, and not the stereotypes that are often associated with it. Still, she calls out bad behavior when she sees it, even if it makes her southern neighbors feel awkward.
The filming locations used in One Mississippi are beautiful and do give the show a small town feel. The storylines are unlike a lot of what we see on TV, and it's encouraging to see a queer woman tell a queer love story with the same exciting "will they or won't they" hurdles and twists that we've seen in sitcoms starring straight people for decades.
If you're new to the show, season one and season two are six episodes each, it won't take long to catch up.