In Search of the Perfect Market Bag: 12 Sources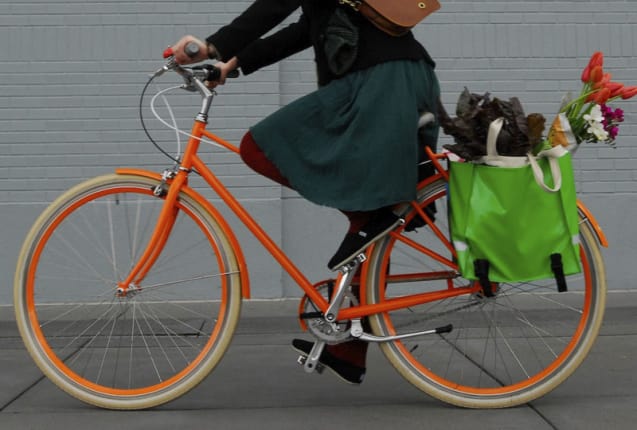 When you're shopping at the farmers market, it helps to have a good market bag — one that holds the right amount of produce and is comfortable to carry. Depending on your needs, here are 12 sources for classic styles, compact models, and bags designed with special features.
Classic
Made from woven palm, canvas, burlap, and crochet, these natural fiber bags are classic and beautiful.
Maison de Kristine
This online shop (based in Washington) sells French Market Baskets made from woven palm fibers with leather handles. They're sturdy and deep, and they range in size as well as price, starting at $36 and topping out around $70.
Utility Canvas
Simple and sturdy, these canvas tote bags are made by Utility Canvas, a husband and wife-owned company based in the Hudson Valley. This is the $78 Classic Field Bag, which they've been producing since 1990. It comes in 10 colors and has a snap closure.
Dutzi Rescue Bag
Made by a women's collective in the Yucatan Peninsula, these Dutzi Rescue Bags are handcrafted from burlap or recycled white raphia. Prices range from $30 to $50, plus shipping, and all sales go directly to the workshop and the women who work there.
Etsy
The classic crocheted market bag is an Etsy staple — it's DIYable, useful, and great for groceries. You can find handcrafted versions in all colors and sizes online. This Organic Cotton Market Bag is available from Etsy seller JaybirdDesigns for $45.
Compact
Made from waterproof nylon, these bags are inexpensive and save space by folding up into tubes, balls, or pouches.
Baggu
Made of rip-resistant nylon, Baggu Bags come in over 50 colors and cost $6.50 to $8, depending on how many you buy. These shoulder bags carry 50 pounds and fold flat into a small 5x5-inch pouch with a snap closure.
Envirosax
These bags come in patterned sets of 5, which cost around $40. (You can also by them individually.) Their selling point is the variety of patterns available, and the fact that they're compact enough to fold up into a little zippered pouch.
Flip & Tumble
Their 24/7 Shopping Bags fold up into a little zippered ball. They come in multiple colors and prints and range from $7 to $9 per bag, depending on how many you buy. Available online or in select retail stores.
Sur La Table
They sell the popular Reisenthel Mini Maxi Bag, which folds up from a shoulder bag into a 5-and-a-half-inch tube, which also has a small clip for your keys. They're made in Germany and available online or in stores for $10.
Special Features
Designed to hold specialty groceries, keep food cold, or fit on the back of a bike, these bags are equipped with useful extras.
Sac a Baguette
These high-end bags cost $299, a lot for a market bag. They're made with canvas, leather trim, waterproof linings, and a shape that's designed to hold 6 gallons of groceries with a special pouch for flowers, newspapers, or baguettes.
Lehman's Non-Electric Catalogue
Their Reusable Insulated Grocery Bag is designed to keep groceries cold for up to 2 hours. It comes with built-in clips that attach to the sides of a shopping cart. Available online for $12 at Lehman's.
Built
Their market bags are made from durable neoprene and come in designer colors and patterns. They have a line of Alexander Girard patterns, as well as a Fishnet Tote ($45) that expands to 200% of its original size. Shown left is the more basic Market Tote for $40.
Public
This San Francisco-based bike stores sells a variety of bags designed to fit onto a bike. This waterproof Double Pannier Bag is currently on sale for $128. Made in the Netherlands, it consists of 2 bags that fit over a rack on your bike's back wheel.
RELATED POSTS:
• Farmers Market Guide: Coast to Coast
• Flea Market Guide: Coast to Coast
• US Urban Farm Guide: Coast to Coast

Photo: Double Pannier Market Bag from Public Bikes
Apartment Therapy supports our readers with carefully chosen product recommendations to improve life at home. You support us through our independently chosen links, many of which earn us a commission.