Industrial Office Furniture: 10 Sources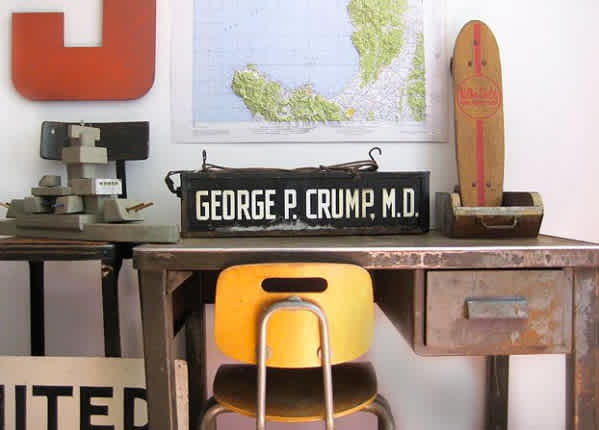 Industrial style was a big trending topic around this time last year, and (if we needed any more evidence that the aesthetic is here to stay) we are now even seeing big name retailers like West Elm and even Thomasville Furniture incorporating inspired looks into their collections. But if authenticity is what you're after, look no further than our Marketplace. From galvanized steel tables to canvas carts and bakers racks, check out this updated list for discovering industrial furniture for the office.
Three Potato Four
This online shop has a really good selection of signage, vintage boxes and storage pieces, desks, chairs, and industrial furniture. These Industrial Swivel stools are $295.
FS Industries
Headquartered in Rhode Island, FS Industries carries tool carts, industrial seating, and storage. They sell a bunch of different modular steel shelves, like this Super Erecta Wire Shelving. Components (posts, shelves, etc) start around $20 each.
Uline
This shipping catalog is a good resource for stacking boxes and bins. Their sturdy metal and plastic bins come in bright primary colors that would look pretty chic lined up on metal shelves in a modern office. These Stack and Nest Containers start at $13 each.
McMaster-Carr Supply Company
An old standby, this industrial supply catalog is known for quick shipping and good customer service. They have the full range of warehouse equipment, including a good selection of industrial chairs and stools starting around $50.
C&H Distributors
Another super-thick warehouse supply catalog, C&H sells no-frills desks, worktables, shelves, storage pieces, and stools. These heavy-duty MBI Lateral File Cabinets are made in the USA and start at $282.
Tini Furniture
This Los Angeles store has a robust inventory of vintage industrial and mid-century furniture. Browsing their catalog recently, we found a few reasonably priced industrial pieces, like this, this Iron table with wooden top for $245.
Salvage One
This Chicago store is half architectural salvage shop and half antique store. They have quite a few industrial vintage office chairs, desks, and file cabinets, and pricing is reasonable. This Used Maui Desk Chair sells for $175.
Steele Canvas Basket Company
Based out of Massachusetts, this company carries canvas baskets that can be used for laundry, storage, or even paper recycling bins. This Square Carry Basket, a smallish model with wire feet and handles for carrying, sells for $62.
KaTom Restaurant Supply
Restaurant supply stores are always a good place to shop for stainless steel carts on casters, which can be really useful for computer equipment or books. This Vollrath Utility Cart from KaTom Restaurant Supply sells for $152.
Industrial House
Based out of Cleveland, they have a small but well curated selection of industrial home goods, including Metro shelving, Steele Canvas baskets, Chilewich mats, Ecco desk fans, and United Receptacle Trash Cans.
Photo: Various items from Three Potato Four
Re-edited from post originally published 10.14.2010 - JEL