Q: I just started working from home and I'm looking to buy a desk chair for my home office. Can you recommend something with good back support that's not too expensive? Under $500 would be great. - Sent from Javier in Chicago
A: Javier, we use Steelcase and Herman Miller as go-to sources for comfortable office chairs, since they tend to pay a lot of attention to ergonomics and they use high-quality steel and mesh. They're on the expensive side, but there are a few designs they sell that clock in under $500. We've also tried the $189 Studio Chair from CB2 and it's surprisingly comfortable—you can read feedback about the chair from customers on their site. For online comparison shopping, Sit4Less.com is another good resource.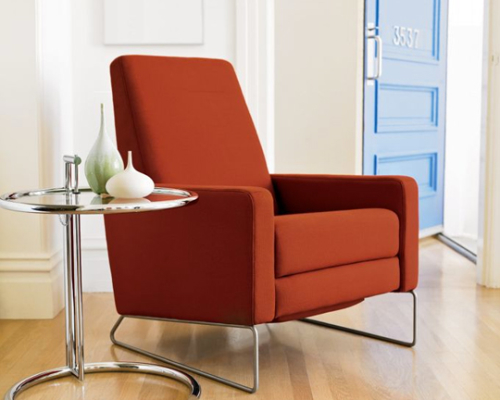 Q: I'm moving in with my girlfriend and we want to buy a recliner chair for the living room. I want something comfortable and she wants a chair that looks good. She likes modern furniture and I don't really care about the style as long as I can kick back in it. Any suggestions? - Sent from Patrick in Los Angeles
A: Patrick, depending on your budget, you have a few options. Modern furniture companies like Design Within Reach sell some great-looking, higher-end recliners that are comfortable to boot. If you're looking for leather, check out American Leather—they have a huge selection of modern, masculine chairs that are in the mid-to-high price range. For other mid-range options, check Crate & Barrel or Room & Board. If you're on a tight budget, you might want to try shopping for a vintage recliner. There are some cool Danish Modern designs from the 50s and 60s that you can find on craiglist, in thrift stores, or on eBay.
Want More?
• Check out GQ's style guide at
gq.com/theinsideman
.
• Read more posts on guy style at
theinsideman.apartmenttherapy.com
.
ABOUT THE INSIDE MAN
We've teamed up with Valspar Paint to create The Inside Man, a special feature dedicated to daily (Monday – Friday) posts from Apartment Therapy and GQ about men's color conundrums and style questions.
Every other week, we're posting Q&As from Apartment Therapy readers. From sofas with cup holders to brilliant bachelor pads, we're focusing on the decor dilemmas men often bring to us.