Q: My boyfriend has this uncontrollable urge to make every room in our apartment blue and/or gray. I've managed to save the bathroom (very zen-esque with green & browns), but now that he's tackled the living/dining area and kitchen he's eyeing up the bedroom. What's another "manly" colour scheme I can suggest instead? - Sent from Paige in Canada
A: Paige, we personally like blue and gray, but any color scheme gets a little dull when you use it over and over again. For a bedroom, we usually like to keep things simple and neutral, with a couple small doses of bright color. How about a light brown with some red accents? Or an off-white with a colorful painting over the bed?
As for the rest of the house, you're in luck, because gray is a nice neutral that goes well with a bunch of warmer colors. A shot of yellow can look great with both gray and blue. In an all-gray room, you might also try a red accent wall or even a deep reddish purple. To give you some initial ideas, we've rounded up a few different guys' rooms with palettes ranging from green and white to red and gray.

For specific paint color recommendations, check out the ongoing "Inside Man" color guides on Apartment Therapy and GQ.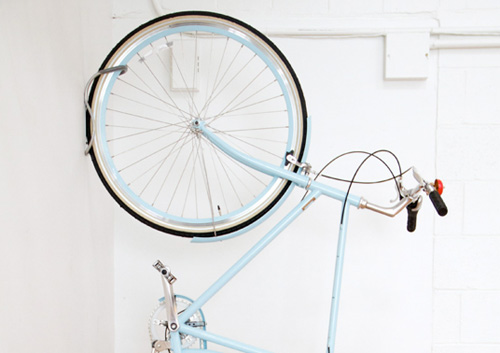 Q: I live in a small apartment and I need to work out some system for hanging my bike from the wall or ceiling. I like the way that the Cycloc looks, but $130 seems kind of expensive. Can you recommend another good-looking indoor bike rack that's more affordable? - Sent from Stephen in New York
A: Stephen, Rob Forbes (the former CEO of DWR) launched a new store this year called Public Bikes. They're based in San Francisco, but they have an online shop with a bunch of different options for wall-mounting your bicycle. We like these:
• Leonardo Wall Hook - simple, clean, not too big, $15
• Pablo Two-Bike Folding Rack - good if you need to hang more than 1 bike, $35
• Michelangelo Two-Bike Gravity Stand - no annoying mounting hardware, $70
We do really like the Cycloc, too, since it has built-in storage for keys or gloves. If you choose to go ahead and splurge on it, just take note that you need to buy the mounting hardware separately. For step by step instructions on how to install it, click here.
Want More?
• Check out GQ's style guide at
gq.com/theinsideman
.
• Read more posts on guy style at
theinsideman.apartmenttherapy.com
.
ABOUT THE INSIDE MAN
We've teamed up with Valspar Paint to create The Inside Man, a special feature dedicated to daily (Monday – Friday) posts from Apartment Therapy and GQ about men's color conundrums and style questions.
Every other week, we're posting Q&As from Apartment Therapy readers. From sofas with cup holders to brilliant bachelor pads, we're focusing on the decor dilemmas men often bring to us.
Photos: Andrew Wehde, Annie Werbler, Rachael Grad, Liezel Strauss, Jill Slater, Public Bikes