Q: Is there any rule about matching wood floors to the color of the wood ceilings? I'm going to rehab a mid-century house that has wonderful tongue and groove cathedral ceilings, and I'm wondering if the wood floors I install should match the color of the wooden ceilings? - Sent from Edgar in New York
A: Edgar, there aren't a lot of hard and fast rules when it comes to matching colors, so the short answer to your question is no; you don't have to match your floors to your ceilings unless you want to. In fact, many people with wood ceilings choose to paint a lighter color to open up a space, or stain a darker color to create contrast.
However, if you're renovating a mid-century home, you might be interested in keeping true to the home's architectural character, and matching floor and ceiling colors could do that.
To give you some initial ideas, we've rounded up five examples of real-life mid-century homes. Some use white ceilings to make a room seem larger; others use contrasting trim to highlight the architectural detail in the ceiling, and others have similar ceiling and floor colors. For a deeper look into each home, click through the links below.
• 1 Jora and Bryan's Mid-Century Organic Remodel
• 2 Richard and Vicki's Eichler House
• 3 Jeff and Jennifer Isbell's Half-Circle Home
• 4 Taylor and Mandy's Eclectic Loft
• 5 Sean & Daphne's Industrial Rustic Downtown Hideaway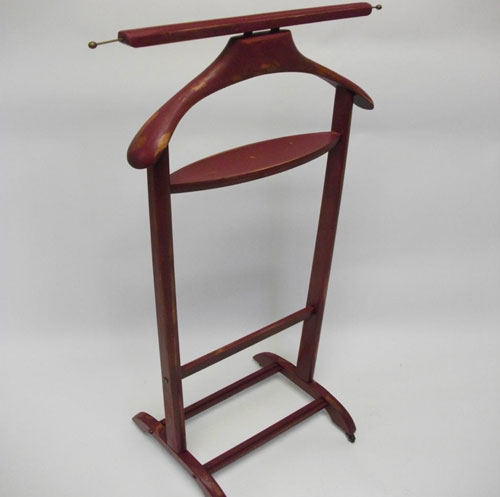 Q: I never know what to do with pants that I've worn once that aren't quite ready for the laundry. I don't want to throw them in the hamper, but I don't want to put them in the drawer either. I also don't want to throw them on the floor (which is where they usually end up). Any ideas? - Matt in New York City
A: Matt, we used to have this problem, so we installed wall hooks in the bedroom where we can hang up our not-quite-ready-for-the-laundry clothes. If you'd rather hide your clothes and you have a bedroom closet, you can hang a couple of hooks on the inside of your closet door and that will do the trick. Here are some options:
• Best Wall Hooks
• Roundup: Hooks for the Bedroom
• The Anti-Closet
There's one more option that's old-school and swanky, the kind of thing Cary Grant would have in his bedroom. It's the men's valet, a freestanding or wall-mounted rack that's designed for hanging suits, ties, and shoes. Very posh. You can find new ones at organization stores like StacksAndStacks.com or keep an eye out for vintage ones at antique stores.
Want More?
• Check out GQ's style guide at
gq.com/theinsideman
.
• Read more posts on guy style at
theinsideman.apartmenttherapy.com
.
ABOUT THE INSIDE MAN
We've teamed up with Valspar Paint to create The Inside Man, a special feature dedicated to daily (Monday – Friday) posts from Apartment Therapy and GQ about men's color conundrums and style questions.
Every other week, we're posting Q&As from Apartment Therapy readers. From sofas with cup holders to brilliant bachelor pads, we're focusing on the decor dilemmas men often bring to us.
Photos: Jora and Bryan, Mark Adams, Manuela, Evan Thomas, Jill Slater / Apartment Therapy