NY House Tour: Axel and Silvia on a Long Stopover

Name: Silvia and Axel
Profession: architect/musician and architect/sculptor
Location: Financial District
Size: about 550 sf (1000 with a low duplex level) 1-bdrm rental
Years lived in: 2.5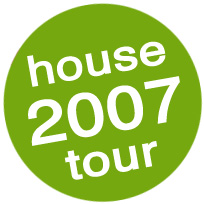 Silvia is from Portugal and Axel is from Germany. They met in graduate school in Cambridge, and decided to see how it would feel to live in New York City. Smitten by the city, but not blind to its drawbacks, they know they are not here to stay. In the meantime, they have found some great deals on furniture, engaged in some select curbside shopping, and designed and fabricated the rest themselves…


























Silvia and Axel do a lot of entertaining, so it was important to have a space that worked for living as well as for hosting events. The brown curtain in the living room is the singular solution. It closes off the room, it hides Axel and Silvia's books and work station, and it creates a warm and plush 'wall' in both directions.
The apartment is a very piecemeal exercise because it is part of a late 19th century utilities structure. In the 1980's, the building was converted in a most haphazzard and seemingly random order, to residential units. It seems like no two units in the building are the same–some taking up two floors, some with many windows, others with one. While Silvia favors the spontaneous–distrusting anything that seems too staged, Axel prefers to arrange things a bit more. This space provides a springboard for each of their approaches to design and when it doesn't, they adapt. Slowly but surely, it has become their home.
AT Survey
Style: contemporary
Inspiration: New York Leftovers
Favorite Element: Table (Bric-a-brac)
Biggest Challenge: Installing and knitting the brown curtain
What Friends Say: spacious
Biggest Embarrassment: Twiggy's pee on the carpet (our dog)
Proudest DIY: ceiling lamp (bric-a-brac)
Biggest Indulgence: cow leather carpet
Best Advice: be inspired by what others throw away
Dream Source: the streets of New York


























Originally Posted January 31st, 2007
For all House Tours, click here!


























Published: May 19, 2008