This Interactive Cloud Lamp Changes Color When You Sync it to Music
We independently select these products—if you buy from one of our links, we may earn a commission. All prices were accurate at the time of publishing.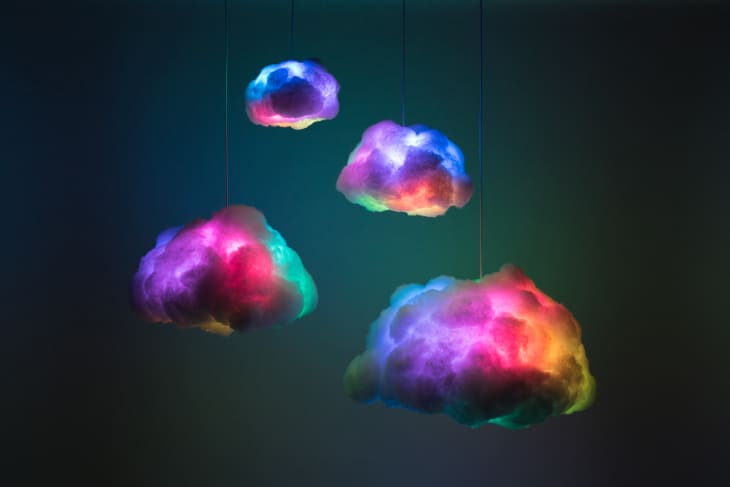 It can be difficult to cloud-gaze in big cities where views are often blocked by walls and billboards. Thankfully, designer Richard Clarkson Studio's ambient cloud lamp now allows you to gaze at the colorful sky without having to look out (or have) a window.
Follow Topics for more like this
Follow for more stories like this
Part lighting fixture, part sculptural statement, the Interactive Cloud is made out of hypoallergenic polyester fiber. It looks and even acts like actual puffs of clouds, which can illuminate any room in the house using cleverly-hidden LED lights. But its coolest feature, by far, is the ability to become a floating rainbow via your desired playlist.
Once synced to music, the interactive cloud can flash hues of red, green, blue, and purple, giving your listening experience the light show it deserves. It has other modes, too, like the option to create a mini thunderstorm (without the danger of its user getting struck by lightning).
"The Interactive Cloud is all about celebrating sound and light," the studio wrote on their website. "They look just as great as individual units in the corner of a bedroom as they do in large 'clusters' for bigger commercial spaces."
The Interactive Cloud comes with white hooks, a USB cord, and a USB power supply. It's available in four sizes: tiny, small, medium, and large. In addition to the Interactive Cloud, the studio has other products in the collection, including a lampshade, mobile, and even a model that levitates with the help of magnets.
Starting at $480, it is pricey for a lamp—then again, it's not everyday you get the chance to have clouds in your home.