Interior Decorator Natasha Habermann Picks Her Marketplace Favorites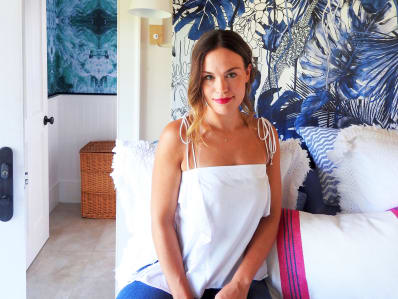 (Image credit: Natasha Habermann)
When it comes to home decor, I have no problem gathering general inspiration ("warm minimalism seems good"), but getting to step two and creating a cohesive look ("how did I end up with so much black?") is a whole different story. That's why I'm grateful that interior decorators like Natasha Habermann exist.
You only need to spend a few minutes on her Instagram to see that she's the real deal, expertly blending global, modern and minimalist influences into beautiful spaces that anyone would be lucky to call home. So rather than just lust after her designs, we asked Natasha to search the Marketplace for the must-buys that stood out from the pack. And just in case another deal-hunter snagged an item before you could, we've added some similar options to the unique items she picked. Consider this your free personal shopping session.
"I love plants, but finding planters can be difficult. This mid-century inspired set of three even comes with plants!"
"I love adding vintage exhibition posters to a home. This one is in great condition, framed, and a colorful, versatile piece. Picasso and Miro exhibition posters are always on my radar!"
"Distressed Persian rugs instantly add character to a home. I'm drawn to the muted colors in this one. I can see it working well with both modern and traditional furniture."
"Using sculpture is a great way to take your decor to the next level; it brings interest to a room by adding unexpected shape. I could see these used on a coffee table, a mantel or as bookends."
"A playful light will instantly brighten up any room. This crystal and brass one would work well in a bedroom, entryway or glam office space."
"Canopy beds add drama and elegance to a room, and this Anthropologie canopy bed is sculptural and modern. It's a twin bed that would work well in a kids bedroom or guest room."
"I love the shape of this sofa. It seems to be in excellent condition and a great price! I could see this used in a small living room or library."
"Every room needs something black. This tallboy provides a ton of storage with a small footprint, which is perfect for a compact space. I could see it used in a ton of different rooms: a bedroom, a living room, a dining room or entryway."
"I'm very drawn to the pattern of this black and white patterned rug. This 8X10 rug would work well in a bedroom with a queen, full or twin bed. If you have a king bed, you should use a 9X12 rug."