Introducing the New Modern Home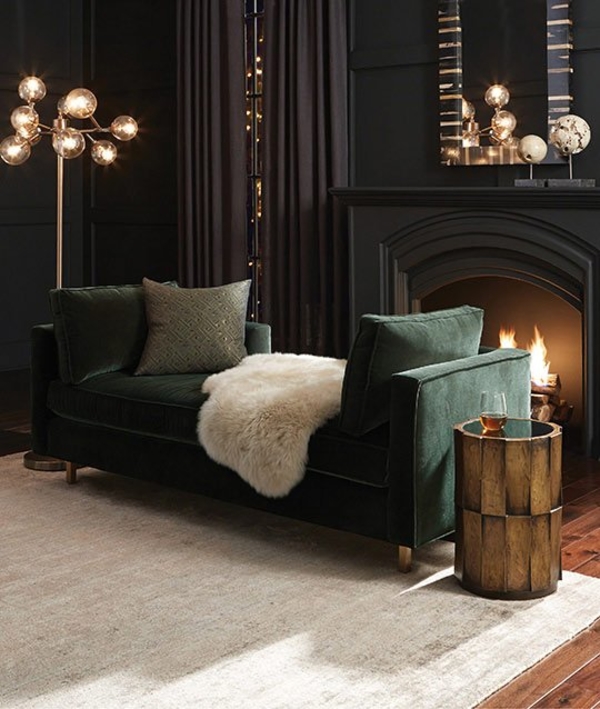 (Image credit: Mitchell Gold + Bob Williams)
Your home should reflect who you are, yes, but it should also reflect who you want to be, and the life you want to live. The new fall collection from Mitchell Gold + Bob Williams has us drooling all over our keyboards, not just because of its gorgeous new pieces, but because of the dreamy, glam but comfortable lifestyle it creates for the home. With a delicate balance of simple lines and luxurious finishes (Hello, whiskey leather!), these pieces make an elegant nest you want to curl up in, and also invite all your friends to.
(Image credit: Mitchell Gold + Bob Williams)
New Living
The collection highlights the art of entertaining. It even features color schemes inspired by "whiskey and wine," and we just poured ourselves a drink so we can see what they mean. We are in love with this living room – modern sophistication with a '70s twist. Warm tones, buttery leathers and simple lines make this the perfect setting for curling up with a book or hosting an elegant evening in. The low and luxe modern sofa paired with these sumptuous swivel chairs captures the glam side of modern comfort.
(Image credit: Mitchell Gold + Bob Williams)
New Dining
It's impossible to host a boring dinner party when you're working with metallic sheen and modern lines (well, maybe it depends on who you invite). We love how this glossy-legged table dresses up cushy, upholstered armchairs. Lighting is key, but keep things soft and flattering with these shaded overhead pendant chandeliers. For serving, along with a sleek buffet, consider a modern bar cart, which we recommend stocking with the aforementioned whiskey and wine.
New Bedroom
The new modern means adding luxe linens and touch-me textiles to traditional bedroom tailoring. With a rich neutral palette and subtle use of pattern, the new bedroom collection allows you to focus on what's happening in bed (like, finishing a really great novel). Mitchell Gold + Bob Williams' beds are a perfect focal point for a room, and they're quiet enough to keep things serene.
(Image credit: Mitchell Gold + Bob Williams)
New Entertaining
Channel your inner disco queen and adorn your home with crystal and gold-toned objets. Eye-catching abstract accessories like this metal knot sculpture can be beautiful additions to your bookshelves or act as cocktail table conversation starters. And who can say no to a decanter and set of goblets? Whether purchased for yourself or to give as a gift, you'll be truly thanked either way.
Check out more delicious pieces from Mitchell Gold + Bob Williams' fall collection.
Comments have been disabled.