Ireland Design Guide: 10 Must-See Shops & Galleries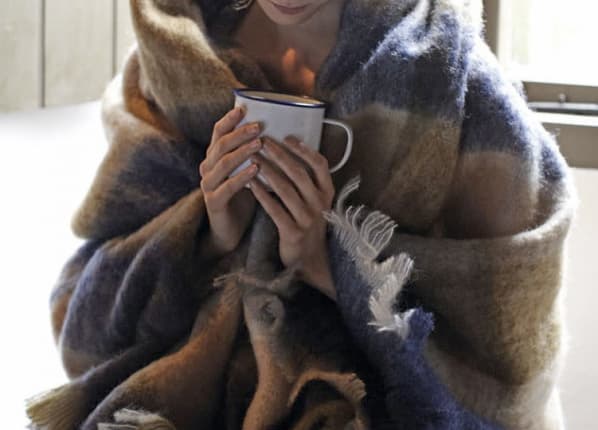 Happy Saint Patrick's Day! In celebration, we've rounded up 10 Irish destinations for design lovers. This is a short list of our personal favorites — for more store and design recommendations from Ireland, see the links at the bottom of the post.
Avoca
Avoca handweavers are internationally known for their colorful, super-soft wool blankets. If you're in Dublin, check out their 4-story shop and have lunch at the popular in-store cafe. They also have locations in Wicklow, Kerry, and Galway. Shown: Lambswool Throw, €50.
Brown Thomas
This upscale department store is the Irish source for high-end brands like Hermes, Louis Vuitton, and Alessi. They have a home & garden section (with an extensive wedding registry department) and their flagship store is located on Grafton Street in Dublin.
Powerscourt Centre
Housed in an old stone building with an interior atrium, Powerscourt Centre has forty-two shops, galleries and boutiques, including antique stores and flea-market-style stalls. Shown: Silhouette Miniature from the Powerscourt Silver Shop.
Arnotts
This department store has a Conran Shop within its Henry Street location in Dublin. Shop here for modern classics and contemporary designer furniture, as well as less expensive home furnishings. Shown: Bentwood Chair in Red, €119.
Irish Design Shop
Located on Bow Lane East in Dublin, this independent boutique showcases unique furniture, decor, jewelry, and accessories by Irish designers. Founded by Laura Caffrey and Clare Grennan, the aesthetic is hip and young. Shown: Disco Forest by Laura de Burca, €90.
Foxford Woolen Mills
Foxford has existed in County Mayo since the 1890s, and they maintain a working mill that's open for tours. There's also a large retail showroom of fabrics and home furnishings, as well as a restaurant serving locally grown food. Shown: Clifden Tartan, $98.
House of Waterford Crystal
The Waterford factory and showroom (in southeastern Ireland) is a must-see for lovers of traditional glass-making. Take a guided factory tour and visit the retail store to shop the largest selection of Waterford crystal in the world.
National Craft Gallery
Ireland has a strong community of traditional and contemporary craftspeople including ceramic artists, woodworkers, and weavers. For a good overview of the scene, visit the National Craft Gallery in the southeastern town of Kilkenny. Shown: Frances Lamb Sculpture.
Irish Museum of Modern Art
For an overview of Irish art in the modern era, visit this Dublin museum, housed in the elegant Royal Hospital Kilmainham building, which boasts an airy central courtyard. Shown: Irish Art of the Seventies.
Trinity College Library
For a taste of literary, old-school Dublin, visit the library at Trinity College. The city's largest library, it's a gorgeous space with vaulted ceilings and shelves full of rare books. The famous Book of Kells is kept here.
RELATED RESOURCES
• Emily's Guide to Dublin's City Centre
• Irrevocably Inspiring Irish Hotels
• Irish Homes from AT and Beyond

Photo: Avoca Mohair Throw at Plumo