Irving & Timothy's Oasis in Union Square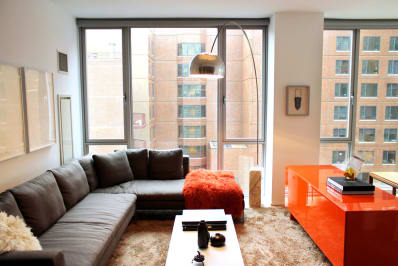 Name: Irving Diaz-Burg and Timothy A. Day (and Matias, their Wheaten Terrier)
Location: Union Square; New York, New York
Size: 850 square feet
Years lived in: 3 years; rented
While they now live upstate, Irving and Timothy were kind enough to share images of their previous home in Downtown New York, overlooking Union Square. In this soothing space high above the hustle and bustle of one of the busier parts of the city, the couple and their pup Matias enjoyed an enviably bright and well decorated home.
*Re-edited from a tour originally published in 2013
Irving explains:
Our apartment was located at One Ten Third, which is a stunning blue and green glass Mondrian-inspired 21 story building. As Toll Brothers' first venture into the Manhattan market, it is uniquely situated where the East Village meets Union Square.
Apartment Therapy Survey:
My Style: I love minimalist, functional, yet luxurious furniture that is inspired by architecture, which I feel brings a feeling of warmth and beauty to contemporary living.
Inspiration: I have a background in art history, and love architecture and design. I like collecting small artifacts and vintage pieces that I can incorporate with my modern way of living.
Favorite Element: I believe that evoking nature— through the use of natural colors and materials— is a key part of luxury living; that contemporary design can exude the warmth of handcrafting and maintain the exceptional quality of luxury.
Biggest Challenge: Tim and I love to entertain and we wanted a different kind of domestic experience... One where the architecture conveyed an open and artful living space that invited entertaining. We love austere lines because they convey a sense of continuity with the urban reality. We accomplish this with meticulously designed furniture and art selections that are curated to articulate the space in concert.
What Friends Say: I love how Irving combines colors and textures here giving a masculine yet warm feeling to the glassed-in space.
I love the view. It's like being in Hitchcock's," Rear Window!" It's a great backdrop.
Immaculately curated and styled, the apartment is an example of how great pieces can be collected to create an effortless kind of elegance.
Biggest Embarrassment: Say what? Or Says who?
Proudest DIY: My custom antique demijohn carboy mold blown glass wine bottle floor lamp in emerald green I designed. Circa 1800's/1900. It is both sculptural and functional in the home.
Biggest Indulgence:
Our B&B Italia cashmere sofa creates the perfect place to entertain and enjoy a Hendricks Martini at the end of a busy work day. You can't get more luxurious than that. And my other indulgence would be my Cocoon & Ciococo Hypoallergenic Silk Filled Comforters- Sateen Covered and mattress covers. They are simply magical - amazing at keeping you cool in summer and warm in winter. Lastly, To me luxury is to be at home in bed reading a book, and the occasional massage doesn't hurt.
Best Advice:
I have three favourites
1. A favourite teacher, said to me years ago: If you don't have passion, then you have nothing. If you don't believe in what you are doing, why would anyone else?
2. From my Therapist, One's only ambition in life should be to be happy. Nothing else matters.
3. And last but not least best piece of advice I ever received from a design view was from my Architect friend Larissa Sand, "Lighting transforms space more than anything else."
Dream Sources: I have been working with Suite New York sinced it opened in 2006. Suite New York is a brilliant space. Kris Fuchs & Maria Sepulveda through their combined expertise, they created a space that is meticulously ....undoubtedly genius.
Moss is the place to go for breakthrough and unique interiors. You can not be disappointed by the designer selection and variety.
For vintage pieces The Galleria shops of Palm Springs are an absolute gold-mine treasures for designers, mid-century modern enthusiasts, vacationers, Palm Springs locals, collectors as well as casual shoppers strolling along Palm Canyon Drive.
Resources of Note:
PAINT & COLORS
Benjamin Moore - White Diamond
Floors - White Oak
ENTRY
Antique Silver-Leaf Faux-Bamboo Mirror - 1stdibs
All Art Curated by Yuri Psinakis

Oly Three "Jonathan" Nesting Tables- set of three tables with
LIVING ROOM
B&B Italia Charles Sofa in Cashmere / Wool blend
Marlo Lorenz Mongolian Wool ThrowPoul Kjaerholm- PK63A Coffee Table – Flint Rolled Marble - Suite New York

Orange Uni Cabinet w/ 2 Doors by Piero Lissoni 2000 - Cappellini

• Arco Floor Lamp design by Achille & Pier Giacomo Castiglioni - Flos New York

• Monroe Handtufted Rug in Wool/Linnen/Lurex/Polyester - Kasthall USA Inc

• Art Over Sofa: Scored Paper, Triptych, Yuri Psinakis "Wash" 2011

Scored Paper

• Sculpture on the Cappellini: Claire Burbridge "Introverted extroverted" 2007 (rendered in acrylic resin, wax and pigment)

• Heath Ceramics Vases on coffee table
DINING ROOM
Bassam Fellows- CB-331 Plank Table, Solid Ash/Oil Finish, Oxidized Brass Triangular Frame - Suite New York

• Bassam Fellows- CB-25 Mantis Side Chair, Solid Walnut (special order as we were the first ones to order them in Walnut) - Suite New York

• Bassam Fellows- CB-39 Slat Bench Custom, Solid Walnut, Full Cushion in Leather. (Bench was a custom order and design by Bassam Fellows for us) - Suite New York

• Bassam Fellows- CB-383 Tambour Wall Mount Credenza, Solid Ash

• Alcyone Lighting by Sand Studios

• All Art Curated by Yuri Psinakis

• Hans J. Wegner- CH24 Pink Wishbone Chair Color released in 2010

- Suite New York

• Hand Blown Mid-Century Set of 3 Glass Candle Sticks (on dining room credenza) - Artifacts 20th Century
KITCHEN
Bassam Fellows- CB-22 Tractor Counter Stool. Solid Garapa Gold

(we own 4 of 5, as they never went into production because of high cost and Bassam Fellows offered them to us. They kept the other one)

BassamFellows, Inc.

• Art on wall next to fridge: Mel Prest "Sands" 2004 - Oil on wood panel (white on white horizontal stripes)
BEDROOM
Sentry Solid Walnut Wall Boxes with Drawers - Gilt

• Custom Solid Walnut TV Console designed by Sand Studios and

fabricated by Flying Chameleon Design & Fabrication Workshop Inc.

• Ercolano Lacquered Jewerly Box - Barneys

• Art over Credenza: Jesse Goff "Sierras" 2008

• Art on Credenza: Yuri Psinakis "Mystery Creates Wonder" 2009

• Brazo LED Desk Lamp (on night table) - Pablo Designs

• Hans J. Wegner- CH24 Pink Wishbone Chair Color released in 2010 - Suite New York

• Min Bed w/ Plexi Headboard- Queen - DWR

• Matteo Bedding Collection

• Bang & Olufsen Beo Time Alarm Clock (one one of the sentry walnut boxes next to bed)
Thanks, Irving & Timothy!
(Images: Irving Diaz-Burg with images 9, 11 and 13 by Lynn Kloythanomsup of Architectural Black)
• HOUSE TOUR ARCHIVE: Check out past house tours here.
• Interested in sharing your home with Apartment Therapy? Contact the editors through our House Tour Submission Form.
• Are you a designer/architect/decorator interested in sharing a residential project with Apartment Therapy readers? Contact the editors through our Professional Submission Form.