Is Temporary Wallpaper Really Removable?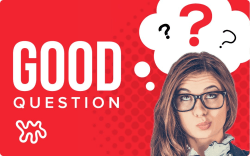 Q: We are renters of a small, simple, and sturdy 104-year-old house. The most prominent wall in the main living space has a terrible mural painted on it that the landlord insists be kept. We do not share her affection for this "art". I believe that temporary wallpaper could be a good solution but I'm concerned about the potential of damage to the painting below. It's one thing if a solid color is being covered up, but any damage to this painting would be obvious...
Can anyone share their experience with removable wallpaper? What happened to the wall underneath and after how long? Are there better kinds of temporary wallpaper than others? Does anyone have any other ideas for how to change our view? Thanks. -Sent by Diedra
Editor: This question is the perfect companion to How To Redecorate Condo Without Offending Mother-In-Law?, in which the homeowners were eager to get rid of an enormous mural painted by a previous owner, but, "When we broached the subject of painting that particular wall, his mother insisted fervently that we are not to touch a thing or even put a nail to that wall." As our wise readers pointed out, that couple was dealing with a lot more than a decorating issue, so Diedra's question is delightfully straightforward in comparison. Just how removable is removable wallpaper? Do you think it could be applied to a mural without doing any damage? Please share all of your experience and insight, plus any other options you can think of for Diedra!
• Have a question for our community? Send us yours with a photo or two attached (questions with photos get answered first).
Apartment Therapy supports our readers with carefully chosen product recommendations to improve life at home. You support us through our independently chosen links, many of which earn us a commission.