So, Is Terrazzo Officially Over?
We
independently
select these products—if you buy from one of our links, we may earn a commission. All prices were accurate at the time of publishing.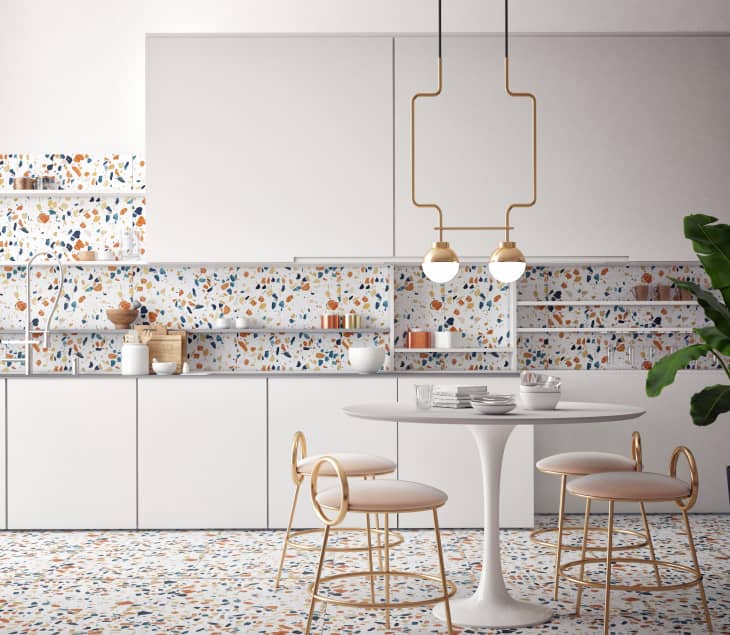 It feels like just yesterday that we all were so obsessed with terrazzo that we wanted to place the crafty material everywhere—and we mean everywhere. On our stairs, on our kitchen counters, and in our living rooms.
But now that everyone has jumped onto the terrazzo train, it feels as if the trend is losing some serious steam.
"The trend cycle is constantly turning and it's only a matter of time that certain fads from bygone eras make a comeback," says Shannon Wollack, one half of Studio Life.Style.
Trends may come and go, but we never expected terrazzo would be out so soon. So what gives? Is terrazzo officially done?
If you ask Studio Life.Style's Wollack and her design partner, Brittany Zwickl, terrazzo technically never went out of trend.
"The terrazzo trend has never gone out of style in places like Palm Springs, where mid-century design reigns," Zwicki says. "The latest versions of terrazzo surfaces play with scale and color serve as a fun graphic element, where past versions are typically more grey and condensed."
Trends vary from city to city, but some interior insiders believe that terrazzo is here to stay.
"Never," says interior designer Bella Zakarian Mancini, when asked if the trend is going away. "I will never be over this magical material."
You don't have to decide whether to keep your terrazzo or kick it to the curb. At the end of the day, your interior design is all about your personal style. But if you're looking to give your home an updated feel, you might want to reconsider how you incorporate terrazzo into your space.
We love a candy-coated terrazzo table as much as the next design enthusiast; however, the ultra trendy color palette can make your pieces feel outdated a few months later.  Plus, terrazzo in neutrals like grey and beige can stand out while withstanding the test of time.
"Play with scale and color in your composite," Wollack recommends. "Consider accenting with interesting grout details like inset brass."
Speaking of scale, it's a good idea to factor how much you like the trend before adding some new terrazzo to your home. While some may feel totally comfortable covering their kitchen backsplash in terrazzo, others may be more inclined to err on the side of caution.
"If you don't want to commit to a whole terrazzo floor, you can dabble with a vanity countertop or even just decorative accessories for your coffee table," Zwickl says.
That way, you'll be easily able to swap out your terrazzo once it's officially out of trend. Or, at least, we've moved on to the next one.
What do you think? Is terrazzo in or out? Sound off in the comments below!