Israel's European Room in Idaho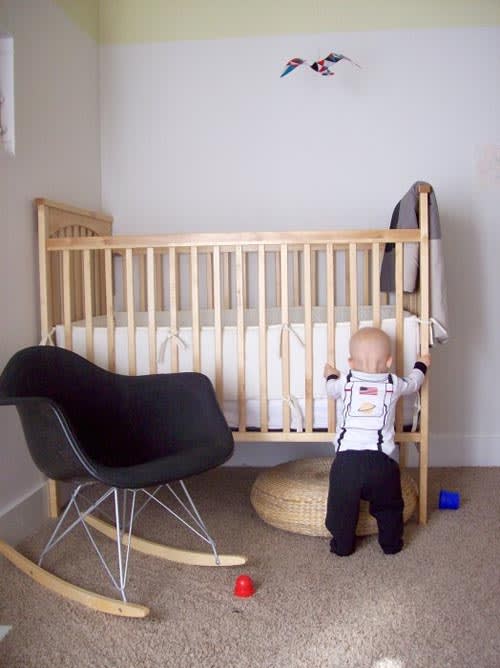 Name: Israel (1)
Location: Boise, ID
We might have expected to find Israel's bedroom on a stylish Scandinavian blog that we had no hope of being able to read. But, no, Israel and his family are happy residents of Idaho who just happen to share a similar sensibility and aesthetic with our friends in the North. Jennifer used a neutral stage to keep the room looking fresh and relied on colorful books, toys and accessories to provide warmth, visual stimulation and interest.
We asked Jennifer more about Israel's room and here are her thoughtful responses:
How would you describe the look and feel of this room:
I wanted his room to feel fun and childish but without compromising on design. I'd like to think it's somewhat modern but still visually stimulating and inviting for him.
What was your inspiration when putting this room together?
When he was smaller I had a lot of earth tones, cream and brown with some pale greens and it was all about looking natural and organic. Now that he's older and more active I wanted to create a space that made him want to play, learn and discover. I put a premium on function before aesthetics.
What is your favorite piece or element in the room?
I like the shelf we built for his toys; it's not the most impressive piece of furniture but it's right at Israel's eye level and it keep all of his toys in reach. It's also easy to stack and display his things in.
Israel's room has an almost European vibe to it - is this intentional?
I'm glad to hear that you get a Euro vibe from his room, while it wasn't intentional, I am always impressed and inspired by the modern, minimal styling and interiors that come from Scandinavian countries.
Are there any diy projects here you'd like to tell us about?
There are several DIY projects in his room including his blankets, floor cushion, painted wine crates on the wall, his toys' shelf, painted moose and Eames rocker. Painting the Eames black was a bit of a bold move for me but it was previously a navy blue fabric and I knew I'd be much happier with black. After seeing Anna from Door Sixteen boldly paint hers with house paint, I took the chance and am happy I did!
What do your friends say about the room?
My other mom friends like his cute toys and the unique DIY features in his room, it's what makes it unique to him!
What advice would you give other parents beginning to plan a nursery for their child?
I would suggest being very selective in considering the practicality of certain pieces before you add them to a nursery. It's easy to get caught up in the newness and cuteness of baby items but remember that you have to look at these things too! After a busy day of taking care of the many needs a new baby has, you need a low maintenance space that is aesthetically gratifying as well. Also, try to keep things such as bedding and curtains as simple as possible because, even though you may try, inevitably the space can get busy with clothes and diapers and toys, it's nice to have a simple and clean backdrop for kid stuff. We'd rather keep the walls, blinds, bedding, and rugs simple and somewhat neutral so that his colorful toys and books could really stand out. It's good to keep the bones simple and add color with accessories or have a colorful backdrop with minimal accessories.
If money were no object, what's your dream source:
It's hard to say where I'd shop if money was no object; I'd probably have several sources for different things! Etsy will likely always be a favorite, especially for natural and non toxic toys. DWR is a favorite for classics as well as new designs, this Teepee, for example! I also love these mosaic blocks, they're so cool
Resources:
Dresser: Ikea Malm
Book ledges: Ikea
Crib: a Craigslist find
Toys' shelf: made by my husband and I
Rocker: vintage Eames that we thrifted and then painted black
Rocking moose: Ikea via Craigslist and I repainted and stained it
Books: Amazon
Toy baskets: I made from old Ikea fabric
White shelves: are wine crates I painted
Most wooden toys are from Etsy, Ikea or Plan Toys
Accordion: World Market
Bird above his crib: Three Potato Four, but I painted it as well
His bedding was made from Ikea sheets
Thanks Jennifer and Israel! Jennifer writes A Merry Mishap where I always see beautiful things (including Israel!). Visit her there. She also sells lovely crocheted baskets in her Etsy shop.
Apartment Therapy supports our readers with carefully chosen product recommendations to improve life at home. You support us through our independently chosen links, many of which earn us a commission.