It's Instagram Official, The Mindy Project Has Filmed Its Last Episode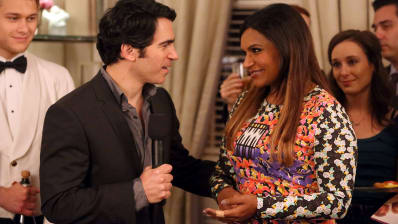 (Image credit: Hulu)
Say it ain't so: Fans of The Mindy Project will be sad to know that today is the show's last official day of filming, which we were alerted to by none other than the star herself, Mindy Kaling.
Kaling has been posting updates today to her Instagram account, noting that today is the final day on set.
Yesterday, the show filmed its final scenes in the conference room set of Shulman & Associates, "a room that has brought me endless joy and laughter," Kaling says.
When it was announced earlier this year that the show's sixth season would be its last, the comedian told Entertainment Weekly that they wanted to end on a high note:
"I mean this half-jokingly, but at a certain point it was like, I think she's dated every man in Manhattan. Sex and the City lasted for, what, six seasons with 10 episodes each? I don't know that there's been a show about a woman trying to find love in New York City that has lasted quite this long. And frankly, there's no more actors in Hollywood left to date." More seriously, "it kind of just felt like [a few] more episodes was all we needed to wind this down."
The final season started airing on Hulu on September 12, and there are eight more new episodes to go before we have to say goodbye. Though there's good news for Danny fans, Chris Messina will return at some point this season (link has spoilers for past seasons).
Keep an eye on Kaling's Instagram—she's promising to post "a lot" today.