James' Built-In Style Cat Complex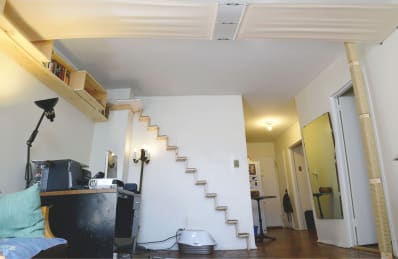 (Image credit: Submitted by James)
Project by: James
Location: Lower East Side — New York, New York
My wife and I designed and fabricated a cat duplex for our small NYC apartment. The cat furniture/architecture is comprised of modules that we call the Cat Pole, Cat Bridge, Catwalk and Cat Staircase. Mostly unfinished, natural materials were used throughout for the health of the cats and to fit with the simple look of the rest of the apartment, to which the cat furniture was to appear built-in. The fabrication relied almost entirely on mechanical fasteners and these became the embellishments, namely, the neatly cut countersink holes and pocket holes in the wood and the lines of stitching in the fabric.
(Image credit: Submitted by James)
The Cat Pole is made of sisal rope and solid pine board. It is compressed between the ceiling and the floor by means of a threaded rod at the base and takes up almost no floor space.
The Cat Bridge is made from heavy-weight cotton canvas and cotton fleece sandwiching stretch-proof nylon. It is affixed to the walls with stainless steel tie-down rings and the tension is adjusted by means of aluminum turnbuckles.
(Image credit: Submitted by James)
The Catwalk serves alternately as a bookshelf and as cat habitat cubbies. It is covered with sisal rug backed with natural rubber, from sisalrugs.com.
The Cat Staircase is affixed to the wall discreetly, as are all the other modules. We scribed around the last riser to fit neatly to the baseboard.
(Image credit: Submitted by James)
We have since designed more furniture at the request of friends and later for customers who have found us online. The furniture has proven to be a wonderful success. The cats climb up countless times a day to play and nap and to check things out from up high. Their presence on the subdued "built-ins" makes for a literally organic, and really integrated, design for the apartment.
Thanks, James!
• Are you interested in sharing a decorating or renovating project with the Apartment Therapy readers? Contact the editors through our Makeover Project Submission Form.
Apartment Therapy supports our readers with carefully chosen product recommendations to improve life at home. You support us through our independently chosen links, many of which earn us a commission.