A Beautifully Handcrafted Apartment in Clinton Hill
We
independently
select these products—if you buy from one of our links, we may earn a commission. All prices were accurate at the time of publishing.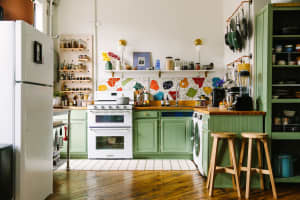 Can't-Miss House Tours Straight to Your Inbox
Keep up with our latest house tours each weekday with our House Tour of the Day newsletter
Name: James Bolenbaugh
Location: Clinton Hill, Brooklyn, New York
Size: 540 square feet, 1 bedroom
Years lived in: 1 year; owned
It may come as no surprise that someone working in the movie industry would be surrounded by beautiful things, but James Bolenbaugh takes this beauty to a whole other level. Taught the skill of craftsmanship by his grandfather, James learned how to build by hand, appreciating the weathered look of refurbished wood rather than plastic veneers at a young age. To top it off, James has installed an envy-inducing movie projection screen, which descends from the ceiling, where he has also installed tin panels with his bare hands. James' DIY handcrafted touch is everywhere as we celebrate the anniversary of his Brooklyn home ownership — he moved in exactly a year ago today.
James is a production designer for many independent feature films, as well as working in the art department for beloved shows such as Mad Men and Orange is the New Black. His love of film, scenic props, and vintage finds is a strong theme in his one bedroom in Clinton Hill. The before photos show how much attention James has given each room, from the handmade bookshelves and expandable zinc dining table to the minute details of the light switches.
Storage is always an issue in apartment living, but with only 540 square feet to work with James has made his home feel spacious yet efficient. This compact and practical apartment feels as though you are living on a boat, one that is parked next to a Brooklyn church rather than crashing against the waves of the North Atlantic. A smoky mirror hangs above the wooden dining booth, lit by an oil lamp, with storage stowed overhead, transporting you back to sometime in the early 1900's. You won't mind being shipwrecked with James as he happily tells you tales of each item while you drink your coffee, strong and black, temporarily removed from the city as though you are far away at sea.
With great detail James shares the origin of his items below, from memorabilia to a guitar he built from scratch. Thank you James, and congratulations on your home's one-year anniversary. You can see more from James on his website, bolenbaugh.com.
Apartment Therapy Survey:
My Style: Living Surface is the term I have come up with, by which I mean every choice is made with the idea that we live in a space that has a life of its own. It ages and grows and develops scars and character. I try to make choices that will support that idea by using organic materials and metals that develop patina, stone that softens with time and abuse, oil or wax finishes on open grained wood that breathes and shrinks and swells with the seasons, and an overall honesty in materials, no veneers or plastic coatings, nothing faux. (There is something about the book Handcrafted Modern by Leslie Williamson that appeals greatly to my sensibilities.)
Inspiration: The Eameses, My Grandpa Ted Beringer who first got me into wood working and design by teaching me how to build guitars, and also… Brooklyn Bars.
Favorite Element: I recently was given a crystal trophy from 1899 that was presented to my Great Grand Step Father H.M. Dater who was the Commodore of the Brooklyn Canoe Club at the time. He only lived in Brooklyn for a few years, but he lived just a few short blocks from here. It's really opened up a lot of history for me, and sent me on an obsessive path to discover all that I can about the Brooklyn Canoe Club.
Biggest Challenge: Limited space, no closets. I've had to build in a lot of storage.
What Friends Say: I want you to come look at my bathroom.
Biggest Embarrassment: My floors. They're so dark and smooth that they constantly look dusty. I'm really trying to ding them up more and break them in.
Proudest DIY: The dining nook and table with leaf extension that I designed and built. That part of the living room was just a weird two foot wall that made a sort of poor man's alcove. I put in the cabinets above, extended the wall out, put in a false beam that houses the projector screen, and built the booth and table out of salvaged oak and zinc sheet goods. It was such a wasted space, and now I spend a majority of my time there, drinking coffee or sharing meals with friends.
Biggest Indulgence: The encaustic cement tiles in the dining nook. It was my first tile job, and it was very expensive by my standards. I tend to use salvaged materials and build things myself to cut costs. But these were brand-new and about 15 bucks a tile — I just fell in love with the pattern and the material.
Best Advice: Use organic materials that can age and develop patinas as you use the surfaces. They look better the longer you have them and the more you abuse them. I try not to ever have anything that is too precious, or that you have to use coasters with.
Dream Sources: An old oak tree.
Livingroom Accent Color: Benjamin Moore Snow Angel
Bedroom Accent Color: Benjamin Moore Filtered Sunlight
Bathroom Color: Benjamin Moore Eagle Rockoi
Kitchen Color: Benjamin Moore Buxton Blue
Everything else: Benjamin Moore straight up white
1940s NYC DOB Tax photo of the building. Source NYC DOB.
Pendant light. Source: Grand Brass Lamp parts and Edison bulb. Built by me.
Nickel Victorian Style Coat Rack. Source: Moon River Chatel, Williamsburg Brooklyn
Tin Ceiling. Source: American Tin Ceiling. Installed by me.
Beam Pocket Projection Screen: I had an epiphany "the screen can go the entire width of the room if I just add a fake beam!" (Projector, ViewSonic Pro 8300) Source: Amazon.com
Teak Credenza from Opus 418 in Williamsburg Brooklyn (William Sours Proprietor, it's now closed, but have been trying to find him ever since, he sold the most beautiful things.)
Collection of stereoscopic slides: HISTORY IN 3D! I love these things, it really brings history to life for me to see it in three dimensionally.
F.A.G. slop bearing. Really awesome piece of engineering, picked it up at a flea market in Los Angeles
Small 1960's Green Scale, from Golden Calf in Williamsburg Brooklyn
Succulents and Pencil cactus: various plant vendors
White painted Argus camera was a prop from a play I designed.
Large Painting above Credenza, by Elissa Sullivan (2004) phenomenal artist and former love who unfortunately passed away when we were 21
Wood crate coffee table with oak stair tread top. Source: Crates from Ebay, treads from Home Depot, storage inside. Assembled by me.
Pine Board built in book shelves, built by me.
Various oil lamps: set dressing from a film I designed in Maine this year.
Visual Reference Books: Usually I get 2 or 3 books per design project, so I'm running out of room.
Wood crate stereo unit: Crates from Ebay, Red Oak from Home Depot. Assembled by me. (also, Denon Receiver, Roku 3, and Crosby Portable Record Player.)
Newgate Schoolhouse clock from… internet.
Edison Bulb Sconce: Gift from Marci Mudd, a good friend and collaborator.
Paint elevation: Made as part of graduate school studies, it was the task of my friend and an amazing set designer Carolyn Mraz to blow this up and paint a large 3′ x 4′ version. I have always kept this as a reminder of where our friendship began.
The General Lee Model Car: Model piece from one of my final set designs in Graduate School at NYU.
Brass Wall Mounted Thermometer: Gift from Andrew Hull, a good friend and collaborator.
Danish Modern Daybed Sofa: Frame from Circa 60 in New Jersey. I sourced the fabric from Mood NYC, and the cushions and upholstering were performed by Golden Calf in Williamsburg Brooklyn.
Salvaged Turkish Kilim Rug Pillows from antiques dealer in Turkey.
Cowhide Western Theme Throw Pillows from Amber Glen Equestrian.
Glass figurines inherited from my Grandma "Pete" Beringer
Stuffed Bear named Guy, I was born with it. I think I literally got it at the hospital.
1970s? SLR Nikon and Lens, was my step father Henry Dater III's camera, and it was the first camera I started using when I was 9.
Eames House of Cards: I've had this forever, fun to rearrange and make new structures, they took such beautiful photos.
Crystal Trophy presented to my great grand step father Henry Murray Dater Commodore of the Brooklyn Canoe Club in 1899. He lived a few blocks from here. If anyone has any information about the Brooklyn Canoe Club, it's been a bit of a mystery I've been trying to figure out. Let's share info.
Fidelio Miniature play in a red box. Gift of my dear friend Ella Kane upon completion of grad school.
Photograph of Me, Minden Koopmans and Ellissa Sullivan taken by Minden Koopmans in 2004.
In that picture frame is a ticket that says "keep this coupon" I found it in a box of my things, and I can't remember where it came from, but… it says I should keep it so I have.
Neato Robitics SV Signiature Vacuuming Robot (I have named him Evil Bob.) It has become an essential part of keeping these dark dark floors looking reasonably clean. Also, a way better product than the more commonly known Roomba, I did my research.
Zinc Table top and leaf extension (zinc from Roto Metals) with 500lbs drawer glides from Rockler, White Oak floor boards salvaged from Gold Coast home, sourced at Build It Green NYC. Designed and built by me.
Various Glass Slides: Flea Markets, Consignment Stores, Ebay.
Large hand silvered plate glass mirror, Olde Good Things, Frame from the same salvaged oak, built by me.
Map of 1904? Penn Station area New York City. I am obsessed with the old Penn Station and my girlfriend Olga Mill got this for me as a Christmas Present. There are all sorts of amazing labels on the buildings like "Lard Refinery" and "Globe Works." Also who knew hot pink highlights were kicking around on old school maps.
Encaustic Cement Tile; Pattern is Snowbank in blue white and yellow. Source: Mosaic Tile House NYC
Hanging Pendant: Shade from a flea market, other parts from Grand Brass
Antique wood and leather folding chairs: not sure what period they are from, but they were purchased from an old Masonic Lodge in Illinois.
Cabinets from Atlantic Design Center Brooklyn (not sure of style they were here when I moved in)
Honed Carrera marble countertops from Atlantic Design Center
White subway tile from home depot
Metal tube shelves from IKEA (One of their better products in my opinion)
Metal tube pots and pans hangers from IKEA
4 Burner Bertazzoni Gas Range, Source: AJ Madison
Bertazzoni Microwave and range hood, Source: AJ Madison
Fagor FFJA4845X 24 Inch Counter Depth Refrigerator with Bottom Freezer (Ultra efficient) Source: AJ Madison
Bosch Silence Plus 46 dBA Dishwasher. Source: AJ Madison
Bridge faucet by Koehler in stainless. Source: Home Depot
Small dark blue painting by Elissa Sullivan (2003)
Pretty much all of the dishes pots and pans, and my 1950s Pyrex Kettle were purchased at Brooklyn Kitchen at one point or another over the last year.
Except the ball jar drinking glasses (leftovers from a film shoot and placeholders until I get real ones) and the AWESOME wild birds of North America tumblers which were leftovers from the same shoot and NOT placeholders; they will go with me to my grave.
Reproduction ceiling medallion by Westinghouse, Source: Amazon.com
Light fixture assembled from Grand Brass lamp parts.
Cutting board and baking tray shelf is just a space-utilizing hack. I cut short lengths of aluminum tube and ran a 4.5″ screw through the side of the cabinet through the tube and into the wall. Turns a wasted gap from prefab cabinets into a useful place to store shallow flat things.
Silk necktie quilt: Made from my Step Father Henry Dater's old neck ties, selected and patterned by my mother JoAnne Beringer, and quilted by our cousin in Australia Viv Costigan.
Bed and bedding, Source: IKEA
Desk lamp reading lights, Source IKEA
Crate night stands, source: Flea Market and eBay.
Palm tree: Home Depot.
Red Helmer file Cabinet. Source IKEA
Antique GE fan: Source: My girlfriend Olga Mill got it for me because I have trouble sleeping with out it!
Vintage Howard Johnsons toy semi truck. Source: leftover set dressing from Season 5 of Mad Men.
1950s rolling office chair. Source: Craigslist
Large Buckminster Fuller Dymaxion Projection Map of the world. I wanted a large colorful version of this map for my fireplace but found that one did not exist, so I modified, colored and enlarged the original and had it printed on canvas by my Graphic Design friend Katie Tower, then I mounted it to plywood and framed it up.
Large Wardrobe from Restoration Hardware; received as payment for designing a short film. I have named him Brian.
Bamboo laundry hamper. Source: Amazon
Antique wall mirror. Source: the guy up the street who sells amazing antique doors, fireplace mantels and furniture on the sidewalk by the bus stop.
Guitar. One of the last instruments I built with my Grandpa Ted Beringer. Source: Designed and built by me.
Fireplace artwork: recently given to me by my 11 year old cousin Lauren on her first visit to New York.
Various photographs on fireplace by my father Mike Bolenbaugh
Playing card collage by my lovely girlfriend Olga Mill
Ceramic Bird from Granny's Attic in Billings Montana (treasure horde consisting of a pocket watch and various left over currency and subway tokens from around the world)
Stone Egg, inherited from Grandmas collection of knick-knacks.
Reproduction ceiling medallion by Westinghouse, Source: Amazon.com
3 Point Chandelier Light fixture, designed and assembled by me from Grand Brass lamp parts.
New York Times painting by Adrian Agredo
Tinted the grout from dirty white, to dark grey: Home Depot epoxy grout tint.
Wall Sconce: Splurged from Restoration Hardware (I removed the cage from around the bulb)
Overhead pendant light from Grand Brass lamp parts
Medicine Cabinet from Pottery Barn
Glass shelves were already there
Big Beam "Turn Darkness Into Daylight" flashlight is my favorite flashlight in my collection of them. I got it at an antique store called Granny's Attic in my home town of Billings Montana.
Black Toilet Seat from Bed Bath and Beyond.
Shower Curtain from DKNY.
The sink, toilet, tub and tile were there when I moved in.
I re-cased and replaced the door with an antique schoolhouse chicken wire pebbled glass door from Olde Good Things
Push Button Light switch and forged brass or nickel covers. Source: Classic Accents
Editor's Note: An earlier version of this house tour included a photo that featured the Confederate flag. We have since removed the photo from the tour and apologize for including the image in the first place. We at Apartment Therapy (as well as the homeowner of this tour) vehemently oppose all the Confederate symbol stood for and deeply regret its inclusion in our story. We apologize for any hurt the now-deleted image may have caused.