James' Seattle Apartment With NYC Style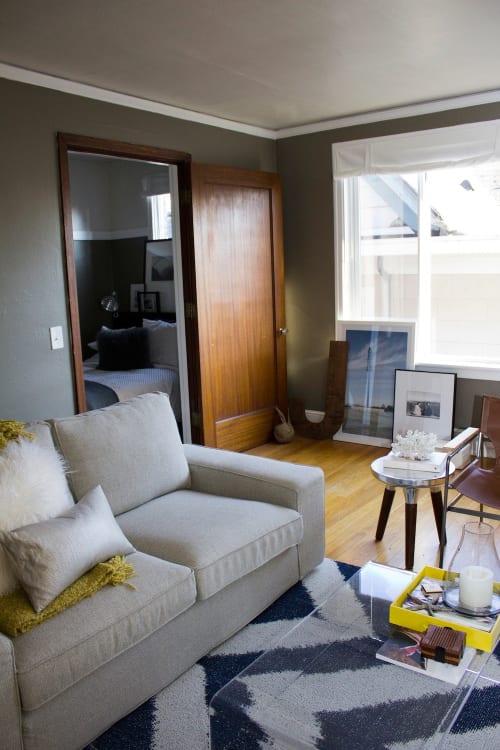 Name: James Fung
Location: Capitol Hill; Seattle, Washington
Size: 450 square feet
Years lived in: 3 months, rented
A designer who recently made the move back to Seattle after living and working in Manhattan, James has created a space that is a nod to both the East and West Coasts. Located in the vibrant neighborhood of Capitol Hill in Seattle, the unit itself is in a pre-war brick building filled with vintage charm, including solid wood doors, glass door knobs, and beautiful picture molding.
Combining the rich design culture of the East coast with the relaxed nature of the Pacific northwest, James' apartment feels modern yet comfortable, a delightful mixture of textures. The slate walls opposing cozy linens and fluffy pillows in the bedroom are just the start of the delightful contrast. It's simple and stylish, the perfect space for a wandering designer.
Apartment Therapy Survey:
My Style: I grew up near San Francisco, went to school in Seattle, and worked as a designer in New York City, so my style is all over the place. I always try to mix that NYC sensibility with the casual nature of the west coast. I think it's important to mix items from different places and eras. Most importantly, design shouldn't take itself too seriously, and I always make sure there is a little bit of humor in all my designs.
Inspiration: People. I get inspired by seeing how people live. I've been fortunate enough to travel quite a bit and I get inspired by seeing the way people make a place for themselves or a home. From people who design with a clear vision in mind, to families who create an amazing home just by the things that they have acquired over the years and the life events that have happened there.
Favorite Element: I love all the small detais of the pre-war apartment which you can't find in new buildings, like the crystal doorknobs, large wood doors, metal fan exhaust in the kitchen, and crown molding.
Biggest Challenge: Painting! I knew it would be difficult to paint a black wall white, but I never thought it would take 5 coats to paint a white wall black.
What Friends Say: "Where's my drink?" — we've all jokingly dubbed it "The men's room" because of the vintage "men" sign I have in the foyer and the speakeasy-esque feel of the space.
Biggest Embarrassment: Since the building is pretty old, every time I want to use the microwave I have to make sure to turn off the TV and the fan to make sure that I don't trip the circuit.
Proudest DIY: The leather armchair in the living room. I designed and fabricated this chair in the workshop at my university when I was in school. It was the first time I ever bent/welded metal and hand stitched leather.
Biggest Indulgence: Artwork. From the Noguchi light sculpture to all the photos, I think it's important to splurge on art since it can move with you and gives a glimpse into the person who purchased it. Although some of the art was very cheap, spending to get quality frames is so important to showcase any type of art.
The art I have ranges from prints that I have purchased at various shows, to things I've purchased at stationery stores, to pieces that I created myself using photographs I've taken or old pictures of my parents in the 70's. They all tell some sort of story and are uniquely personal.
Best Advice: Not having a lot of money, or knowing that you may be moving soon shouldn't hinder you from spending the time and effort to make your home something you really like coming home to.
Dream Sources: Jean de Merry, R Twentieth Century, anything made by Eileen Gray
Resources of Note:
PAINT & COLORS
• Living Room & Bedroom: Do It Best - Enigma
• Kitchen: Do it Best - Nightfall
LIVING ROOM
• Sofa: IKEA
• Chair: Custom by James K Fung
• Rug: FLOR
• Floor Cushions: Urban Outfitters
• Coffee Table: CB2
• Wardrobe: IKEA
• Side Table: West Elm
• Bookcase: IKEA
• Fan: Restoration Hardware
• "Jump" print: by Thomas Prior
• Raptor Planter: Etsy
• Pillows and Throw: Calypso Home & West Elm
• Lacquer accessories: West Elm
• Table lamp: Akari Light Sculpture by Isamu Noguchi
• Wall Clock: Karlsson
• Large J: Vintage
• Cell tower Tree Print: unsigned
KITCHEN
• Bar cart: Vintage
• Butterfly Chair: Amazon.com
• B&W print: "Untitled" by James K. Fung
• Barware: West Elm, CB2, Crate and Barrel, C Wonder
BEDROOM
• Bed: IKEA
• Bedding: West Elm
• Bridge Prints: IKEA
• Man with Snake Print: Richard Avedon
• "Snow NYC" photograph by Ciaran Tully
BATHROOM
• Accessories: Bed Bath and Beyond
• Tray: Burberry London
Thanks, James!
(Images: Kelsey Boyce)
• HOUSE TOUR ARCHIVE: Check out past house tours here.
• Interested in sharing your home with Apartment Therapy? Contact the editors through our House Tour Submission Form.
• Are you a designer/architect/decorator interested in sharing a residential project with Apartment Therapy readers? Contact the editors through our Professional Submission Form.
*Re-edited from a post originally published 11.12.12 - AB