5 Things You Can Declutter From Your Linen Closet Right Now
We independently select these products—if you buy from one of our links, we may earn a commission. All prices were accurate at the time of publishing.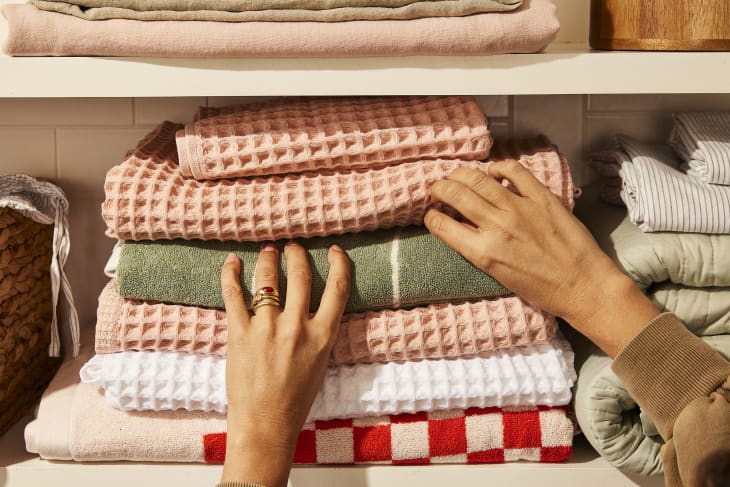 Apartment Therapy's January Cure is a free 20-day program that'll help you reset your home for the year ahead. Sign up here and get all assignments delivered to your inbox.

If you're anything like me, your linen closet is filled with more than just linens. Along with my regular bedding and towels, you'll find ones I no longer use as well as some medicine stored in baskets up top and miscellaneous bathroom supplies down below. 
Follow Topics for more like this
Follow for more stories like this
This area seems to become the hub for excess items and decluttering it often becomes an afterthought. So let's get this space fresh and clean. 
Day 18: Take stock of your linens
Go to your linen closet, or wherever you store your linens, and take everything out. Sort them into three piles: items to keep, items that are in good condition but no longer wanted/needed, and items that need to be tossed. Some of the things you'll be looking at are towels, washcloths, sheets, pillowcases, duvet covers, comforter sets, blankets, dish clothes, and kitchen towels. If other things reside with your linens, you can put them aside for now. 
Here are five things you can declutter right now:
Old bath towels
Outgrown bedding
Themed items you don't use (holiday, seasonal, etc.)
Mismatched items
Moth-eaten bedding and towels
Toss out any items beyond repair. For the items you are keeping, let's put them back in their place, grouping like items together. For the items you don't want but are still in good condition, let's put them aside to donate them (like in your outbox!). And for the non-linen items, like your stock of medicine, consider tossing out anything expired before putting them back. 
PRO TIP: Consider taking kitchen towels and converting them into cleaning rags. And for all your other towels and blankets, donate them to your local animal shelter.
More ways to participate in the January Cure:
The Cure Program is a tradition here at Apartment Therapy — it happens every January, April, and September. Click here to learn more about the year-round program and when to sign up.