Japan's Studio Ghibli Theme Park Is Finally Open
We independently select these products—if you buy from one of our links, we may earn a commission. All prices were accurate at the time of publishing.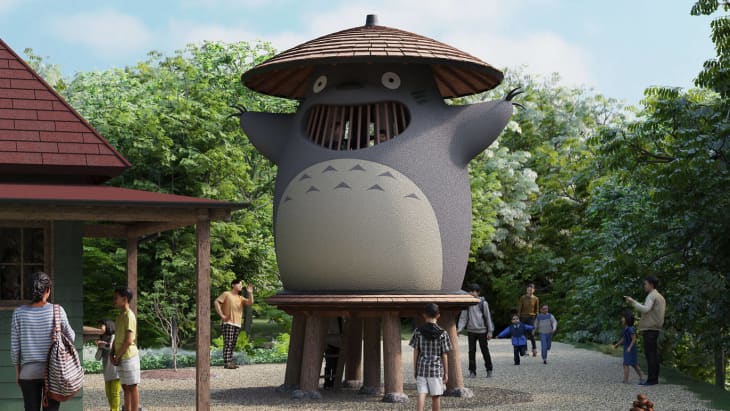 From "My Neighbor Totoro" to "Spirited Away," beloved Japanese animation giant Studio Ghibli has created no shortage of fantastical places for fans to dream of visiting, and they finally can. On November 1, Ghibli Park opened in Aichi, Japan, giving visitors a chance to step into the worlds of their favorite Ghibli films.
Located less than an hour from Kyoto by train, the park was brought to life inside Aichi Earth Expo Memorial Park, the former grounds of Expo 2005. However, Ghibli Park is markedly different from iconic theme parks like Walt Disney World and Universal Studios. There are currently no big attractions or rides inside the park. Instead, guests are encouraged to "take a stroll, feel the wind, and discover the wonders."
"People think of it as a theme park, but I've always wanted it to be a park," director Goro Miyazaki, son of Studio Ghibli co-founder Hayao Miyazaki, said during a recent promotional event. "I think that parks are first and foremost for the local people, so I wanted them to be loved by the people of Aichi more than anyone else."
But fear not: There are still plenty of opportunities to step into the worlds of your favorite Studio Ghibli films. Ghibli Park will eventually feature five different areas, three of which are currently open to the public.
Ghibili's Grand Warehouse is the park's main area. Designed as an indoor town, the area is full of iconic Ghibli film characters, like a life-sized Catbus from "Totoro" and a Robot Soldier from "Castle in the Sky." The Grand Warehouse also features a cinema that plays short films exclusive to the park and the Ghibli Museum in Tokyo, and three exhibitions: Becoming Characters in Memorable Ghibli Scenes, in which you can immerse yourself in 14 iconic Studio Ghibli film scenes; Delicious! Animated Memorable Meals Expanded Edition, which explores how the food found in the studio's films looks so delicious onscreen; and Ghibli's Collections, which features a collection of Studio Ghibli posters, films, books, and more from around the world.
The second area is Hill of Youth, where visitors can visit the antique shop at the heart of the 1995 coming-of-age romance "Whisper of the Heart," as well as its spin-off film, "The Cat Returns." This area also offers a panoramic view of the entire 17.5-acre park.
The third area, Dondoko Forest, is entirely inspired by "My Neighbor Totoro." Guests can hunt for soot sprites in a replica of main characters Satsuki and Mei's home, while children can enjoy a "Totoro"-themed playground.
The park's remaining two areas are set to open in 2023. One is Mononoke Village, which is inspired by the animal gods and fierce warriors at the heart of 1997's "Princess Mononoke." The other is "Valley of Witches," which takes cue from "Howl's Moving Castle" and "Kiki's Delivery Service." The area will feature a life-sized replica of the wizard Howl's magical moving castle, as well as young witch Kiki's seaside home. Since concept art shows spinning teacups inspired by Kiki's cat Jiji, it's safe to say that Ghibli Park won't be ride-less forever.
The park is currently open from 10 a.m. to 5 p.m. on weekdays, and from 9 a.m. to 5 p.m. on public holidays and weekends. It is closed on Tuesdays. For now, visitors must purchase timed tickets for specific areas of the park, where tickets run from 1,000 yen ($6.75) to 2,500 yen ($16.87) for adults and 500 yen ($3.37) to 1,250 yen ($8.44) for children of elementary school age and younger.