How to Make Jen's DIY Oversized Scrabble Tile Art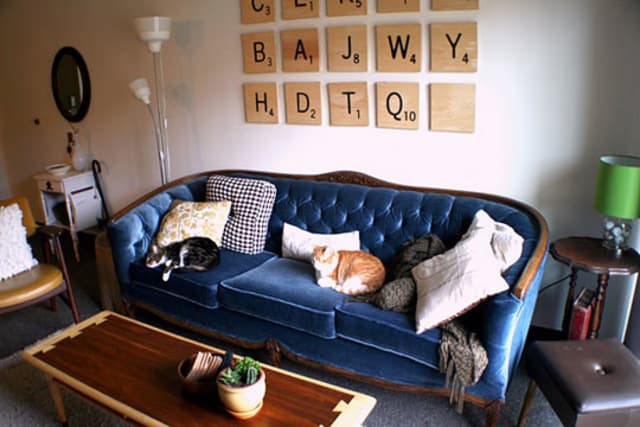 When we took a look at Jen & Tim's Dressed Up White Box Apartment last week, the big standout of the room was the couple's oversized Scrabble tile art. So we returned to Jen's blog to find out how we could make our own…
First of all, I should admit that I am absolute Scrabble junkie so when I first saw the tile art I was in love. I had assumed that Jen and Tim had purchased the tiles but I should have known better. This crafty and thrifty couple created the tile themselves. You can get all the details on the project from their blog post — insideways: Alphabet Soup — but here's a little recap:
First, Jen and Tim purchased the wood for their tiles and had it count down to size. They chose a nice light colored pine that was free of knots to get a look almost identical to real Scrabble tiles. They prepped the cut wood tiles by giving them a light sanding to smooth them out and give them slightly rounded corners. Then, using a blown up image of an actual Scrabble tile, they used a pencil to trace the letters onto the oversized tiles. Then it was just a matter of painting the letters with black acrylic paint, taking it slow and steady to achieve smooth lines.
Easy, right? The only challenge would be deciding which letters to include in your own DIY! Oh, and I guess there's the challenge of hanging the tiles in a grouping — but Jen and Tim cover that on their blog, too.
Images: insideways