Jessie's "Deck That Pinterest Built" For Under $1300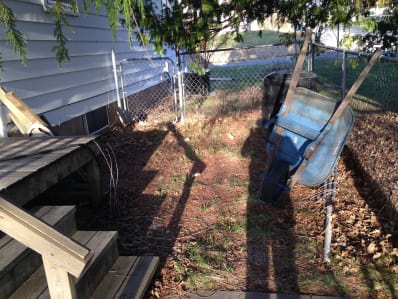 (Image credit: Submitted by Jessie)
Project by: Jessie
Location: Hopkins, Minnesota
Jessie's deck is just effortlessly cool. A nice balance of greenery, sleek furniture and recycled wood, it's practically party perfect. Congrats on the deck Jessie, we're ready to come over anytime.
(Image credit: Submitted by Jessie)
From Jessie: The spot, as you can see, used to be a neglected yard waste dump just outside our back door. The deck we had was useless and poorly installed. I hired a contractor to tear out the old deck and reuse the wood to put in this guy. That was the most expensive part at $1000.
(Image credit: Submitted by Jessie)
The sectional is made from European style pallets which were unused and untreated so I knew they were safe. The cushions are from couches left on the curb during my hometown's spring clean-up week. Big shout-out to my dad for driving around the nice neighborhoods to steal stuff off of boulevards. I made the covers using waterproof canvas I ordered off the internet. By the end of it, I was sick of everything so I just bought outdoor throw pillows for color. So that whole 8'x8' sectional cost me about $100.
(Image credit: Submitted by Jessie)
The plant stand/bar is just wood and cinderblocks. The two side tables are tomato cages with the legs trimmed off and edge-glued rounds from the hardware store. After all was said and done, including the plants, this thing cost me about $1250. I call it The Deck That Pinterest Built.
Thanks, Jessie!
• Are you interested in sharing a decorating or renovating project with the Apartment Therapy readers? Contact the editors through our Makeover Project Submission Form.