JFK's Saarinen-Designed TWA Hotel Is Air Travel Nostalgia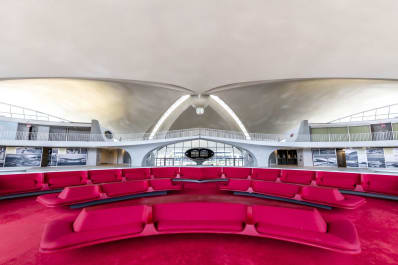 (Image credit: Max Touhey)
When legendary mid-century designer Eero Saarinen designed the TWA Center for JFK international airport, flying was still a luxury (and a fun, even exhilarating) experience. Though the neo-futuristic architect died just one year prior to opening the now-Historic-Register-of-Places building, his legacy will live on to inspire a whole new generation of travelers through a new project that's reopening the restored and expanded terminal as a boutique hotel, event space, and dining destination.
For younger travelers and students of design who may only previously have known the iconic Finnish designer and architect by his often-copied Tulip Tables, the TWA Hotel at JFK Airport is not just going to be simply a landmark but a tribute to everything that's essential Saarinen: clean, minimalist, and futuristic, accompanied by pops of bold color.
Opening in early 2019, the refurbished 66,000 square foot flight center — a $260 million preservation rebirth project from hotel management firm MCR Development — will become the world's largest hotel lobby, flanked from behind by two brand-new low-rise buildings housing the 505 hotel rooms, a museum, fitness center, flight observation deck, retail, and eight restaurants all connected to the original TWA Flight Center via the original flight tubes that transported travelers from the terminal to their gates. There will even be, according to Bloomberg, a rooftop pool.
(Image credit: Max Touhey)
But the real wow factor (especially, we're sure, for millennial travelers) will be the "Connie" bar out front — a Jet Age watering hole built into an actual Lockheed Constellation TWA airliner from the 1950s, which were designed by Howard Hughes.
As of September 28th, the TWA Lounge has a temporary home and is welcoming visitors at 1 World Trade Center in Lower Manhattan, where MCM fans are no doubt getting whipped into a virtual frenzy with all the design details fit to print — also featured over on Architectural Digest.
To learn more about the man who left such an indelible impression on not just midcentury design but the world at large, check out the recently released American Masters documentary, Eero Saarinen: The Architect Who Saw the Future, directed and co-produced for PBS by his son Eric.