This Company Is Auctioning Off Hand-Drawn Puzzles To Benefit Both Artists and COVID Relief Charities
We
independently
select these products—if you buy from one of our links, we may earn a commission. All prices were accurate at the time of publishing.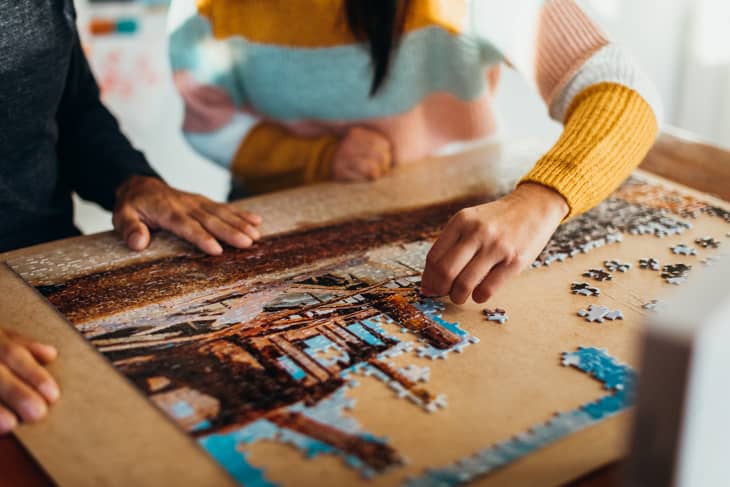 Who would have thought we'd ever be living in a period of time where it's nearly impossible to get our hands on a jigsaw puzzle? With everyone stuck inside self quarantining, jigsaw puzzles have become a hot commodity, and one company is taking their production of puzzles to the next level.
Jiggy, a "millennial-focused" puzzle company that features the work of female artists on its direct-to-consumer puzzles, as Refinery29 explains, realized it could do more than just keep people entertained at home. CEO Kaylin Marcotte says that the coronavirus pandemic caused the new company—launched in November 2019—to rethink their mission statement.
Once their puzzles began selling out earlier this year, Jiggy was forced to jump head-first back into production to restock and rush the next collection planned to debut in the spring. And it gave the company the opportunity to give back, almost immediately, to its affected community.
"One silver lining is that saying, 'necessity is the mother of invention,'" Marcotte told Refinery29. "It added these constraints that we've had to get creative with. One thing that I'm actually really excited about that we're doing is partnering with our community of artists, influencers, and New Yorkers that we love and admire to create a series of limited edition and one-of-a-kind puzzles."
Jiggy gave members of said community blank, pre-cut puzzles for them to create on. These puzzles will be auctioned off and proceeds will go partially back to the artists and partially to the New York COVID-19 Relief Fund.
"Galleries are closed and exhibitions are canceled, so artists are really in a tough spot right now," Marcotte continued. "We're splitting the proceeds with them, supporting their work, and donating our portions to the New York COVID-19 relief fund."
The plan, Marcotte explained, was always to give back to the artists who lend their designs to Jiggy puzzles. But because of the sudden jump in popularity, Jiggy is able to do so now rather than later down the line. 
Keep your eyes on Jiggy's social media and website to stay in the loop about when the auction will go live. And sign up for Jiggy's emails to make sure you get your hands on one of the must-have puzzles when they restock.