Joanna Gaines Friends Threw Her the Cutest Baby Shower and You're Going to Love the Theme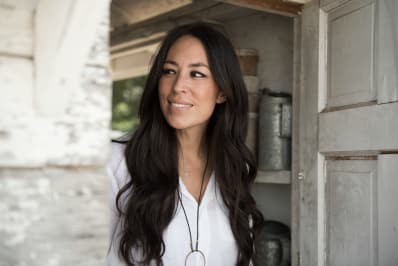 (Image credit: Courtesy of KILZ)
Friends are always there for you, through the little things and the big moments in life. Whether you're expecting your first child, or your fifth, your friends will be excited to celebrate every pregnancy milestone that they can. But where do we sign up for friends like the ones that Joanna Gaines has?
The Fixer Upper star is currently expecting her fifth child with her husband Chip Gaines. The couple already has two sons (Drake and Duke) and two daughters (Ella and Emmie Kay) together. The boys are taking the lead as Chip and Joanna's fifth child is going to be a baby boy. There is no word on what they plan to name their third son, but based on his older brother's names, we can assume it'll start with a D!
Joanna's friends and family put together the cutest baby shower for her. She's seriously got a good group around her, as most women get a "sprinkle" for their 2nd and 3rd children. With a friend as thoughtful as Joanna Gaines, it is no surprise that her loved ones put together something as creative and thoughtful as her.
On Instagram, Joanna shared a picture from her shower where she posed with a giant stack of books. She captioned the photo:
I like big books and I cannot lie - Blown away by the creativity and thoughtfulness of my friends- just the cutest book shower ever for baby Gaines! Feelin' the love... now I just need to figure out how to shove these books in my car so I can get them to the farm! #babygotbooks
We wonder if she got any classics like Goodnight Moon or If You Give A Mouse A Cookie at her shower? Joanna's friends kept the theme very relevant to what she's been up to lately, as she's released a design book and a cookbook and is currently working on a decorating guidebook.
Chip and Joanna have always been open about how important their children are to them. Anyone who's ever watched an episode of Fixer Upper knows that the kids are always involved in their projects. The family always has dinner together, as that is a majority priority for the parents, despite their very busy schedules.