6 Careers That Will Give You A Free Place to Live, Too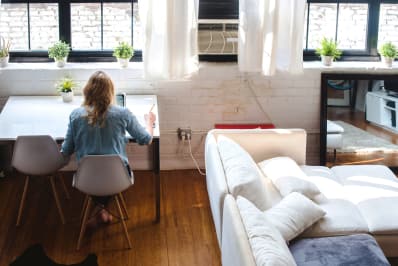 (Image credit: Lauren Naefe/Stocksy)
If you need a job and a place to live, why not skip half the stress and get both at the same time? Apart from the military, there are plenty of gigs available that offer free or low-cost housing for employees. Jobs that come with lodging can make it more affordable to live in desirable spots like New York and California, notes Alexandra Levit, chair of DeVry University's Career Advisory Board. But job-seekers should be sure to look at the whole compensation package, including salary and benefits, advises Vicki Salemi, a career expert with Monster.com. "You're still going to want to go to the movies, see friends, pay your cell phone bill," Salemi says.
For those who think they'd be cool with living on the job, here are some cool opportunities:
1. Nanny
Live-in childcare is a career expert favorite. "Caregiving professions pay the best," Levit says. "Typically, you'd receive a good salary in addition to live-in benefits." Nannies who live with their employers are paid an average of $19.14 per hour, or roughly $765 per week, according to a survey from the International Nannies Association. The gig often also comes with perks like vacations with the family. And thanks to sites like Care.com, these jobs are becoming increasingly easy to find.
For those with a little more wanderlust, becoming an au pair overseas is another option. Through programs like Au Pair International, nannies from other countries earn a weekly stipend of $195 per week in the United States. Many agencies, including Interexchange.org, also require host families to pay $500 toward education credits.
2. Ship Crew Member
Feel like stretching your sea legs? A gig on a cruise ship might be the perfect fit. American Cruise Lines offers a weekly salary of $700-$900 for positions like deckhand and server. You can be working up to 12 hours a day, seven days a week for four months at a time, but these are still good jobs if you're bitten by the travel bug.
For the mechanically-inclined, yachts, ferries, and fishing boats offer housing aboard their vessels for deckhands, engineers, and other employees.
3. Silicon Valley Tech Employee
Tech giants Google and Facebook have made real estate headlines for building their own modernized-versions of the company towns of the 19th century—think Hershey, Pennsylvania, or Pullman, Illinois, which started as planned communities for workers of the namesake companies.
The 59-acre Willow Park planned community from Facebook in Menlo Park, California—affectionately dubbed "Facebookville" by Wired and "Zucktown" by the New York Times—is slated to include 1,500 housing units, most of which will be given exclusively to its employees, along with two parks and 125,000 square feet of retail space.
Google, meanwhile, spent a whopping $800 million on properties in Sunnyvale, which are expected to house 11,000 of its employees. The search engine is also reportedly investing in housing for 20,000 Googlers in San Jose.
4. Corps Volunteer
A stint in the Peace Corps is a great way for the altruistic to give back and receive free housing in return. Though the Peace Corps calls its workers "volunteers," they are given a stipend of roughly $7,500 after completing two years of service. Housing in the corps depends on the area of service and can be anything from college dormitories to a local host family's home.
5. Yellowstone National Park Lodge Worker
Yellowstone National Park Lodges—the company that runs the lodging options in the park—offers low-cost dorm-style housing for its hospitality workers. Employees can be anything from chefs to housekeepers in the park's nine lodges, 31 eateries and five campgrounds. Workers are also paid $9.50 to $10 an hour and get free recreational opportunities like hiking and wildlife education programs. The park's lodges are currently hiring for its fall season, which lasts from August through October.
6. College Faculty Member
Universities often offer free or subsidized housing for their full-time employees. Granted the digs are often located in the dorms, and require additional duties like being on-call for the students and their keg-party and exam-anxiety drama, but at schools like New York University and Columbia University, this can mean living in the world's most expensive city for free.