John the Botanist's Treehouse Retreat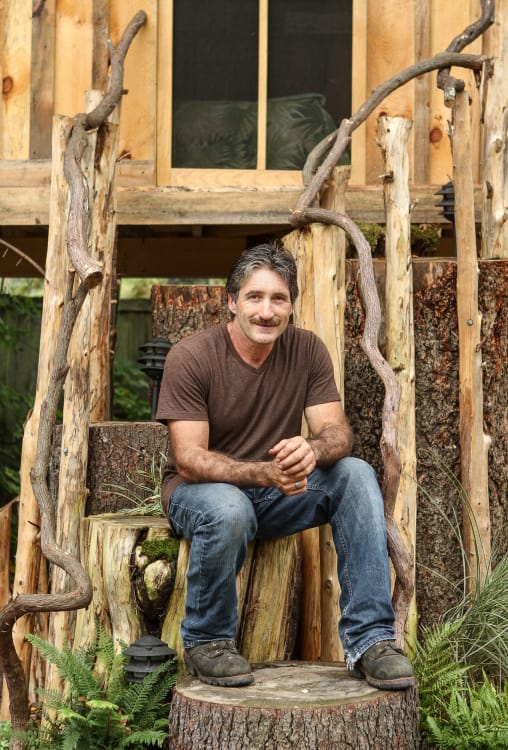 Name: John the Botanist
Location: Tiverton, Rhode Island
Size: 160 square feet: 10' wide x 16' long x 8' high
Years lived in: Property owned for 17 years; treehouse built this summer
John the Botanist, a landscape designer who also does tree removal for a living, is a man with a knack for building and growing beautiful things. Take a walk through his property and nearly everywhere you look, you can see his handiwork.
Gardens and stonework carve out areas for outdoor dining and socializing around a fire pit. Succulents and vines cover the roof of a shed with a living layer of green. Water flows into a pond filled with colorful koi and creates a soothing trickle that invites you to have a seat on a nearby handmade bench and take it all in. Clearly, John is a man who loves to take his work home. He is rarely without a personal project and is always looking ahead to what he'll create next.
John got the idea to build an outdoor retreat while watching the show Treehouse Masters. His treehouse would be an escape from his active life, a place for him and his wife Edie to occasionally sleep outside and enjoy the grounds he's worked so hard to cultivate for the past 17 years. He wanted to create something rustic and natural that looked like it had always been there. His impressive collection of local wood, accumulated during his many years of removing trees — most of which were dying, diseased or downed by severe weather — made it possible for him to build the 160-square-foot house almost entirely out of materials he already had.
He started by first building the stairs, which are made entirely of tree stumps left intact. Climbing them evokes a playful sense of being a child again and actually climbing a tree; you have to look down and thoughtfully watch each step. Mosses, lichens and ferns growing in crevices add an enchanting woodland feel to the playful structure. Laurel handrails create a graceful arc that leads visitors from the ground to the screen door entrance.
The inside of the house is quite simple. The only furnishings that aren't built in are a queen-sized bed, a full-length mirror and a trunk. Four shelves, holding lots of candles, and a large red cedar bench are built-in. A comforter with a palm frond design perfectly suits the setting. Sheer green curtains billow as a breeze blows through the large screen windows, which offer a lovely view of the beautifully landscaped grounds. "It's a good place to go to read a book or have some solitude," John says.
Once the stairs were up, the rest of the design fell into place for John, who completed the treehouse, made of eight different kinds of wood, in about 50-60 hours. He spent a total of around $800 on plywood, roofing, electrical supplies, and milling for the pine boards he used on the front and sides. All of the other materials came from tree removal jobs.
It's no surprise that John is already planning his next steps. He wants to build an outdoor shower and a seaglass curtain that opens to reveal a bonsai workshop underneath the house. He hopes to find more time to practice the Japanese art, which is something he enjoys doing for relaxation.
Of course, it's not all about peace and quiet. What's a treehouse without a touch of adventure? John's eyes light up as he explains his vision for a footbridge that crosses over the koi pond and connects the treehouse to the deck. Sitting on the bench below his carved sculpture of a turkey buzzard, he says with a smile, "It's like being a kid again."
Apartment Therapy Survey:
My Style: Traditional, natural, using local resources.

Inspiration: The television show 'Treehouse Masters' motivated me to built my treehouse.

Favorite Element: The stairs, the view of the water garden, and the horses in the field.

Biggest Challenge: Building the stairs, and making the house look as if it was always there.

What Friends Say: Everyone loves the simplicity and the use of materials and design.

Biggest Embarrassment: Behind the treehouse and under it. I plan to build a bonsai workshop under the treehouse in the future.

Proudest DIY: Using the trees I cut down on jobs to build my treehouse — the wood would have otherwise been wasted.

Biggest Indulgence: I never have enough plants.

Best Advice: If opportunity doesn't knock, build a door! Never let what you can't do interfere with what you can do.

Dream Sources: The Bible, garden magazines.

Resources of Note:
STAIRS: Made of various types of trees, all 75 years and older; red cedar, balsam fir, locust, black walnut. All trees were removed on jobs in the area.
RAILINGS: Native laurel and white cedar from a job.

BENCH: 80-year-old red cedar tree, removed in Tiverton

SHELVES: Native white pine

BED: An air mattress; chosen due to the humidity.

BEDDING, PILLOWS AND RUGS: TJ Maxx; earthy tones to keep with the treehouse theme.

MIRROR: was given to us by our neighbor; the old wood frame fit with the look.

TRUNK: TJ Maxx; it caught my eye because I loved the old worn look and thought it would look just right and be able to hold extra blankets for a chilly night.

CURTAINS: TJ Maxx; light and sheer for the flow and romantic feel. When the candles are lit it is just such a nice, relaxing atmosphere.
Thanks, John & Edie!
(Images: Jacqueline Marque)
• HOUSE TOUR ARCHIVE: Check out past house tours here.
• Interested in sharing your home with Apartment Therapy? Contact the editors through our House Tour Submission Form.
• Are you a designer/architect/decorator interested in sharing a residential project with Apartment Therapy readers? Contact the editors through our Professional Submission Form.