Julie's Artful Home in D.C.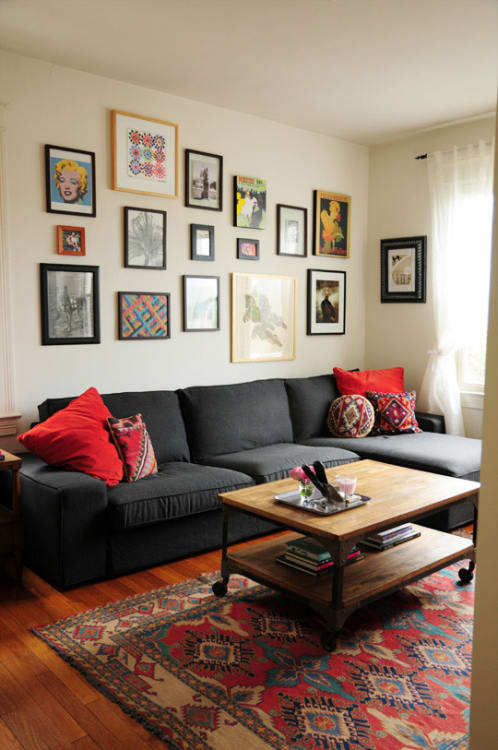 Name: Julie, Blogger
Location: Tenleytown, Washington D.C.
Size: 650 square feet
Years lived in: 1+ years; Rented
The first thing you'll notice about fashion blogger and graphic designer Julie (of the blog
Julip Made
) is her sunny personality. And the next is how it matches perfectly with her colorful and unmistakable artistic home in D.C.'s Tenleytown neighborhood.
Julie's apartment is a playful mix that shows her love for prints and mosaics, and her affinity for clean design and details. Many of the pieces that adorn her home, from the art to the textiles, are gifts from family members and their collections, gathered over the years. One of the many perks of having a mom who is an artist (Patricia Underwood) is being able to snag some of those original pieces for yourself. Such is the case with many of the pieces on Julie's wall.
Sometimes it's creating your own design that makes a space feel more personal. Julie has put her creative touch on a number of projects, including using printed paper to cover an otherwise unsightly gray fuse box in the kitchen. The little vanities on the coffee and end tables were covered with paper from PaperSource. Several of her DIY projects have also been featured on Refinery 29.
When she's not busy running her popular blog Julip Made and visiting stylish events around the city, Julie, a self-professed "home-body", spends her time at home watching movies with her dog Odin and her boyfriend, or uses the space to entertain friends.
Apartment Therapy Survey:
My Style: Growing up, my mom was an artist and my parents liked to travel and collect different things from around the world. So with the pillows and the rugs and the Buddha, I like a little bit more of a worldly touch and also little bits of glam, like the gold in the cups or the lampshade. Boyfriend: I don't like clutter. I like things very clean and simple. I love wood pieces. For me, I love the living room coffee table. I like to let that be the piece that speaks the loudest.
Favorite Element: It's an older building and has great character. There are really tall ceilings and I love the view. Sometimes it makes me feel like we live in a tree house.
Biggest Challenge: Sometimes when you rent you don't have control over certain changes. But I think overall we've been able to make it our own with what we are able to do.
What Friends Say: That it's cozy. They're impressed that it's so put together. They say, "You actually have a home!"
Biggest Embarrassment: It's not really under our control, but the bathroom. We have boring tiles. Another thing that I thought was embarrassing was this ugly fuse box we had in the kitchen. So I covered a cardboard box with PaperSource paper.
Proudest DIY: One of the most popular is a tray from Ikea, Mod Podged and covered in Paper Source paper. Some of the art on the wall is mine. I recovered the inside of the white lampshade, and I painted the chair in the bedroom. It's just a bunch of little projects that help give the space some personality.
Biggest Indulgence: We just bought a new Mac desktop. We've been saving up for that for a while. I also think, because we don't own this place, we've made the decision that we're not going to put a ton of money into it. We have ideas for how we'd like to invest in a home when we buy.
Best Advice: Find out what makes the most sense for your space and how you use it most. Really think about how you're going to use something you buy and be most comfortable.
Dream Sources: First Dibs has some amazing pieces that I could probably never afford. So probably First Dibs and then I'd love to be able to explore flea markets, estate sales, and yard sales, which is something that is difficult to do without a car.
Resources of Note:
ENTRY
• Paintings: Her mother, Patricia Underwood's
• Coat rack: Ikea
• Rug: Home Decorators
• Tray: Free Cycle in her building's basement
• Mail slot and Napkin Holder from IKEA
• Mirror: Pottery Barn. Was in her bedroom as a kid.
LIVING ROOM
• Dog photograph Art.com.
• The plaid flower sketch and Goth painting: Julie's
• Marilyn Monroe: College store
• Original art from her mom, Patricia Underwood
• Horses print: From Grandfather
• Dog drawing: Georgetown flea market
• Box on floor by window: Odin's dog box for his toys
• Curtains: IKEA
• Shelf unit: IKEA (EXPEDIT)
• Baskets: Top: IKEA; Bottom baskets: Freecycle pile in our building's basement
• Buddha: Kensington Market, Toronto
• White Horse: Breyer Horse. She painted it white.
• Pot: Grandmothers.
• Rug: Gift from her dad. Bethesda flea market
• Coffee table: World Market
• Couch and the orange cushion: Ikea
• Other pillows: gifts from parents from the Bethesda Flea Market
• Tables: Belonged to grandparents.
• Trays: Ikea
• Candles: Ikea
• Vases: Dollar Store
• Lamp: Goodwill; lampshade was a DIY
• Vintage green clock: Not sure of source
• Guitar: Boyfriend's
• Paperweight: Grandfather's
• Bar shaker: Grandparents
• Piece over table: mom, Patricia Underwood
• Wicker chair: Ikea
KITCHEN
• Shelves: IKEA
• Magnetic Knife Racks: IKEA
• Fuse Covered in cardboard from PaperSource
• Poster: Brome County Fair, Quebec
• Teapot: Birthday gift
• Cake plate: TJMaxx
• Prints on wall: Art.com
• Picture frame: Goodwill
• Panda Salt and pepper shakers: Urban Outfitters
• Glass water bottles: Ikea
• Teapot: Le Creuset
BEDROOM
• Rug: Home Decorators
• Shoe Rack: IKEA As-Is bin for $10.
• Baskets and shelving: Ikea
• Mirror: Ikea
• Nightstand, bed, desk: Ikea
• Butterfly basket: Target
• Lamps: Pottery Barn.
• Frames: left and center charcoal piece are Patricia Underwood, right is a Matisse print from Art.com
• Pillows: Navy: Ikea. Unicorn: from childhood
• Bedding: Ikea
• Chair: Former neighbor was throwing it away. Julie repainted it.
• Hamper: Pier 1
• Letter cups: Anthropolgie, birthday gift.
Thanks, Julie!
(Images: Nicole Crowder)
• HOUSE TOUR ARCHIVE: Check out past house tours here.
• Interested in sharing your home with Apartment Therapy? Contact the editors through our House Tour Submission Form.
• Are you a designer/architect/decorator interested in sharing a residential project with Apartment Therapy readers? Contact the editors through our Professional Submission Form.
Apartment Therapy supports our readers with carefully chosen product recommendations to improve life at home. You support us through our independently chosen links, many of which earn us a commission.