Traveling For the 4th? Here's How To Beat The Holiday Traffic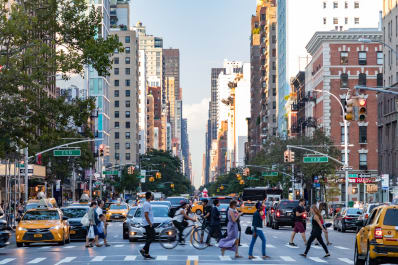 (Image credit: Ryan DeBerardinis/Shutterstock)
It's officially summer and America's birthday is on the way. With the Fourth of July approaching, Google Maps is encouraging everyone stay in good spirits by providing traffic reports for 25 major U.S cities to help us navigate through the huge holiday crowds.
In my hometown of Washington, DC, traffic on the Fourth is extremely intense because of the yearly fireworks show held on the National Mall. What would normally be a 20-minute drive can take up two hours depending on congestion and road closures. The interactive map says that the absolute worse time to get around DC would be 3 pm on the 4th, while the best would be 4 am.
Using aggregated and anonymized travel data, Google Maps is helping users avoid the traffic jam and get to their respectable holiday destinations without the unnecessary hassle. Instead of watching the fireworks from the gridlocked bridge, simply check the interactive site for both national trends and local traffic, the best and worst times to head to your destination, and other useful tips for a road-rage free holiday.