8 Joy-Filled Books to Read This Juneteenth
We
independently
select these products—if you buy from one of our links, we may earn a commission. All prices were accurate at the time of publishing.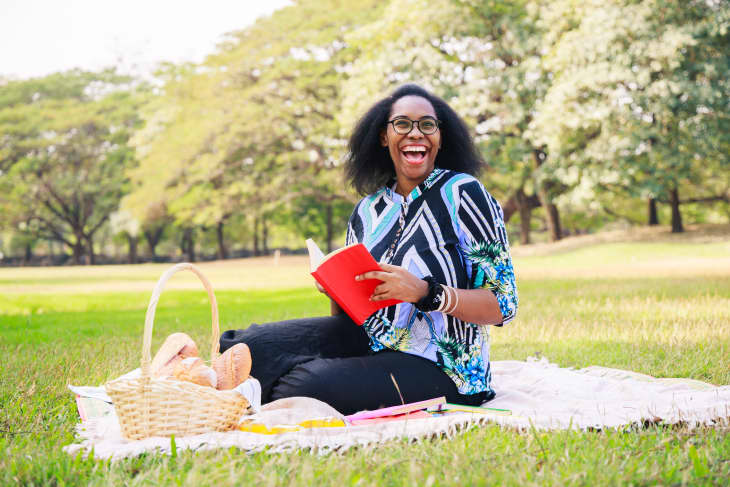 Juneteenth is coming up this week, so you may be looking for books to read about the Black experience. Before grabbing a dense nonfiction book about historical and systemic racism, remember that there is more to Black lives than pain and oppression. While that type of literature is vital to learn from, there are just as many positive and uplifting stories that deserve attention. Juneteenth is a time of celebration, after all. It marks the official end of slavery in America — if that isn't cause for festivities and a focus on the good in life, then I don't know what is. 
The following selection of books brought me joy just writing about them. I hope the world these authors have crafted, real or imaginary, brings you pleasure and amusement this month and all year round. 
"Black Oak" is the newest release from poet and founder of the music collective Flowers for the Living Harold Green III. With short, beautiful poems paired with stunning, colorful illustrations (courtesy of Melissa Koby), Green celebrates the accomplishments and just general magnificence of iconic Black men he admires — like Colin Kaepernick, Billy Porter,
Pharrell Williams, Tyler Perry, and Barry Jenkins, among others — who are using their passion and vision to shape the world in loud and quiet ways. Don't miss his previous book, "Black Roses," which does the same thing but for phenomenal Black women. 
I will forever scream for the rooftops my love for Brittney Morris's "SLAY" and how I wish it were around when I was a young, nerdy Black girl. The YA novel follows seventeen-year-old Kiera Johnson who is living a double life: In one, she's a regular straight-A student. In the other, Kiera's secretly the creator of a multiplayer online role-playing card game called SLAY. In this virtual world, gamers across the African diaspora can duel using cards based on Black culture references. But when a teen is murdered over a dispute in the game, SLAY is catapulted into the spotlight as people worldwide worry not about the young man's death but instead, whether a game exclusively for Black players is technically a racist space. But, never fear, as the novel unfolds, you realize just how brilliant, fierce, and level-headed Kiera is — someone please make this into a movie! 
The subtitle of this book says it all: A Cookbook for Juneteenth and Black Celebrations. In fact, it's the very first cookbook released that celebrates the holiday. While Juneteenth was just declared a federal holiday in 2021, Black Americans, specifically Black Texans, have honored the day Major General Gordon Granger arrived in Galveston and enslaved Texans finally learned that they had been free since 1866. Juneteenth is typically celebrated with cookouts, music, and dancing, and "Watermelon and Red Birds," from writer and cookbook author Nicole A. Taylor, showcases stories and recipes that have emerged from decades for joyous Juneteenth gatherings.
If you've ever indulged in Phoebe Robinson's stand up comedy or her podcast turned into TV show "2 Dope Queens," you know that Robinson has a knack for being deeply funny and a bit absurd while using mundane personal experiences to make observations about being a Black woman in America. Her books are no different, and they make for a light, humorous read that provides poignant cultural criticisms. "You Can't Touch My Hair" is Phoebe Robinson's first essay collection — she has since published two others, "Everything's Trash, But It's Okay" and "Please Don't Sit on My Bed in Your Outside Clothes" — but really, any of her books are an excellent choice. Oh, and I'd be remiss not to mention her new-ish imprint, Tiny Reparations Books, which is "is committed to publishing complex, honest, and humorous work that not only reflects the current conversation but also pushes it forward."
If there's one thing that sparks joy, it's a fun-loving romance that you can get lost in. Enter Talia Hibbert, author of the sexy, diverse Brown Sisters romance series. "Get a Life, Chloe Brown," the first in the collection, introduces you to Chloe Brown, who, after a near-death experience attempts to "get a life" by creating a list of things she thinks will help her live more fully. Chloe enlists handyman named Red to help her, and let's just say, things get very steamy from there. If you enjoy this book, there are two more in the series to binge. 
From the author of the bestselling memoir-in-essay collection "Here for It" (which I highly recommend checking out) comes this YA debut about two Black queer best friends, Harrison and Linus. When Harrison finds out Linus is moving out of state at the start of junior year, he decides to throw a send-off for his best friend "Ferris Bueller's Day Off" style. Said to be "infused with all the joy of the best teen movies," by Buzzfeed, "Kings of B'More" is a charming and amusing epic journey full of queer, Black fun and friendship. 
Combining West African folktales with reimagined Greek and Middle Eastern mythology and history, "Love in Color" is Bolu Babalola's debut short story collection brimming with lush detail and touching love stories that center around strong Black women. 
The delightful Candice Carty-Williams has a new book titled "People Person" coming out this fall, but until then, you can dive into the world of Queenie, the main character of Carty-Williams's bestselling debut novel of the same name. When it debuted three years ago, "Queenie" took the literary world by storm, winning the Book of the Year Award at the 2020 British Book Awards and making Carty-Williams the first Black writer to do so. Most recently, the British free-to-air public service television network Channel 4 announced it would be adapting the book for the tiny screen. The plot of "Queenie" is relatively simple; it follows the 25-year-old Queenie, a Jamaican British woman, after a breakup with her long-term boyfriend. But while you laugh and cry at her misadventures, you get a peek into what it's like living as a Black woman in a gentrified South London.