Justina Blakeney and Camille Styles Share 5 Tips for Refreshing Your Home in 2021
We
independently
select these products—if you buy from one of our links, we may earn a commission. All prices were accurate at the time of publishing.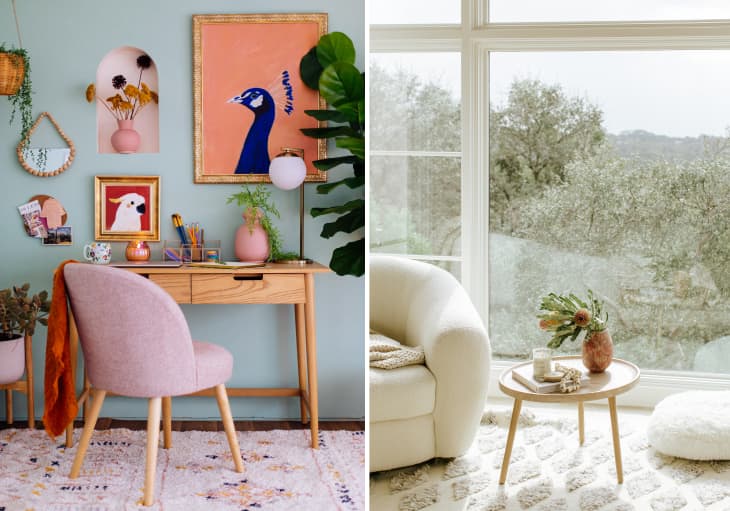 If your home has had to do a lot of double (triple, quadruple) duty for the past 10 months, you're not alone. The switch of the calendar and more time at home has had many itching to switch up their spaces. If those "new year, new me" feelings haven't worn off just yet, take some advice from style stars Justina Blakeney and Camille Styles.
Both women work with Target as Home Style Experts, and while they might have opposite approaches to design, they show that a refresh can be beneficial for any space, no matter your style.
Here are Justina's and Camille's best tips for starting 2021 at home.
Have a drop zone at the front door
There's a reason this area is a big part of our annual January Cure — the landing strip helps manage what comes into your home. Justina agrees: "The first thing I do when I come home is take my mask off, set my stuff down and go wash my hands. This console table is a great spot for your mask, purse, keys, mail — whatever — and doesn't give up precious space in what likely already feels like a crowded area. The neutral black color gives you a base to play with color in smaller, less permanent ways through your decorative accents, like plants and art."
"My bedroom is my haven and is my favorite place at the end of a long day," Camille says. "I try to keep things as zen-like as possible by eliminating clutter on the nightstand and making my bed up with one of my favorite at-home luxuries: linen sheets. These are wonderfully breathable and also have the 'I woke up like this' rumply texture that I love."
Furniture doesn't have to stay in one spot
Since spaces are now gyms and schools and offices, having a flexible floor plan is key. "Replacing big and bulky chairs with lighter options like this rattan Opalhouse chair makes it easy to turn your living room into a temporary yoga studio or a gym in flash," says Justina.
Give yourself the spa treatment
"One of my sleep resolutions is to unwind with a hot nighttime bath, which are proven to encourage better sleep by lowering your core body temperature," Camille says. "I love the idea of creating a luxurious at-home spa environment with salt lamps, oil diffusers and a warm cotton towel to help lull me to sleep."
When you don't have walls, define your spaces with decor
Many people have struggled with how to separate work from home in the past year. Justina has a helpful suggestion: "To upgrade a makeshift work from home setup into proper home office, I like to use rugs to delineate the office 'zone,' so even if your office is a small corner of a larger room, the rug creates a visual boundary that marks the area."