Kanye Designs His Own Furniture (Not That We're Surprised)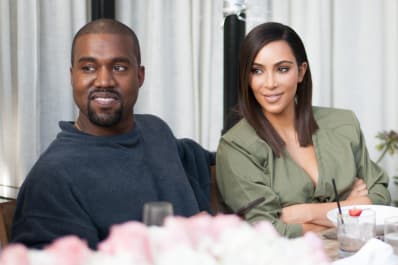 (Image credit: Owen Kolasinski/BFA/REX/Shutterstock)
Rapper and fashion designer Kanye West has been not so subtle in his desire to enter the world of furniture design. And now we have confirmation that he's living his dream—at least in his own home.
This week, Architectural Digest interviewed Kim Kardashian, and Mrs. Yeezy revealed that her husband has become friends and collaborators with Belgian designer Axel Vervoordt. From AD:
"My husband makes all of his own furniture in his office," she says. "My office is all Vincent Van Duysen, but Kanye is so good at it, he loves to draw out pieces. Axel made a couch in our house called the 'Kanye couch' because Kanye designed it with him."
We're hardly surprised that West has been jumping into furniture design. West has been known to be inspired by home decor; at a 2015 talk, he mentioned that his 2013 album Yeezus was inspired by a concrete lamp designed by Le Corbusier.
Plus back in 2016, he was spotted at IKEA HQ in Sweden, spawning rumors of a possible collaboration. IKEA Australia had a pretty amusing response to the hearsay, creating an illustration of assembly instructions for a giant bed that resembled the one featured in Kanye's video for Famous. (We might have had a joke or two about it, as well.)
Though there's been no concrete news about a possible collection with IKEA, the Swedish retailer has been pushing the boundaries with their recent fashion collaborations. Basically, we can't imagine Kanye coming up with anything weirder than the goth circus vibes of Bea Akerlund.