I Can't Stop Talking About How Comfortable This Stylish Sofa Is — and It's on Major Sale for Black Friday
We
independently
select these products—if you buy from one of our links, we may earn a commission. All prices were accurate at the time of publishing.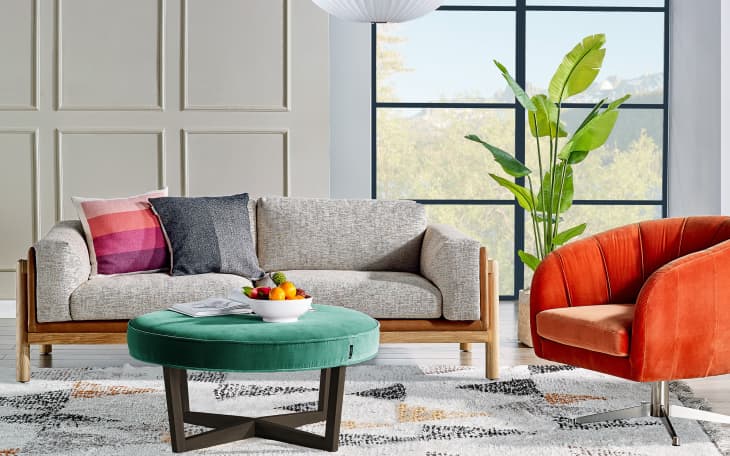 A couple of months ago, after a long day and a glass of wine, I took to one of my favorite pastimes — browsing Zillow. I had been loosely considering moving for a while and thought, "Hey, what's the harm in looking?" A couple of clicks, an email chain, and an apartment tour later, and I was signing a lease . . . all in less than a week (when you know, you know!). A new place meant a new beginning, as well as a blank slate for picking out my dream furniture. At my last apartment, the sofa didn't belong to me, which made finding the perfect sofa for my new space priority numero uno.
When it comes to sofa shopping, there are a few different mindsets. Mine was that sofas are just a place to sit for a couple of hours a day and unwind — and if it feels comfortable to sit in, that's all that should matter, right? But the more I began to research all the different types of sofas out there, the more I realized that, much like a mattress, there are so many different factors to consider when finding the one that's perfect for you.
I approached my hunt with a checklist: I knew I wanted something low, with deep seating, and a mid-century modern look. Most of all, I wanted to find a sofa with cloud-like coziness. However, I kept finding myself at a crossroads between comfort and style. In my experience, the most comfortable sofas are never the ones that look chic. After endless searching (and too much time spent reading reviews), I thought that finding a cozy sofa that checked all the style boxes wasn't going to happen — and then furniture brand Kardiel offered to let me try its Nordic Boucle Sofa.
Founded and run by four family members with a shared passion for modernism, Kardiel is known for its stylish, modern furniture — a dream for anyone looking to bring a little contemporary or mid-century flair into their home. It's also big on making sure its pieces are equally as comfortable, something that can feel like a rarity with MCM-inspired furniture. I got the best of both words after spending some time with the Nordic sofa.
The first thing that attracted me to this sofa was the design. I was immediately taken by the walnut frame and bouclé cushions (my '70s-revival-obsessed self couldn't help but gawk). But reading into the specifics, I had a gut feeling that it was also going to be a comfortable pick. With a depth of 37.4″ and durable medium-soft cushions described as providing "consistent support and sink in relaxation," I could already picture myself curled up during my next Netflix binge or having deep conversations (no pun intended) with friends. I couldn't wait to call it mine.
This sofa was conveniently delivered in one large box. Not knowing what to expect, I invited my best friend over to help put it together (because she was just as excited to see the sofa as I was). After some time spent unwrapping each cushion and swooning over the soft bouclé fabric, we found that all we had to do was break out the included Allen wrench and attach the legs. This sofa was set in 15 minutes.
Now, for the moment of truth: the first sit. Excited to put it to the test, we both fell back onto the sofa, looked at each other, and let out an audible "ooh" — Kardiel wasn't kidding when they said, "sink in relaxation." I had finally found a sofa that looked great and felt even better — and I wouldn't shut up about it. From friends to family, I've waxed poetic about this sofa to everyone I know. So naturally, dear reader, you were next on my list.
Normally priced at $3,690, this sofa is definitely an investment, but a worthwhile one. And here's the good news: It's currently 25 percent off with code THANKU20 as part of Kardiel's Black Friday Sale. If the price of the Nordic sofa is a little too steep, there are plenty of other sofa options that may suit your budget. Or, if you're simply in the market for a different piece of furniture (Kardiel has some incredibly chic dining and bedroom pieces), you can apply the discount to those too. Either way, you have a great excuse to add a few mid-century upgrades to your home!

Buy: Nordic Boucle Fabric Sofa, $2,797 with code THANKU20 (normally $3,690)