Karen's Micro Space in Marin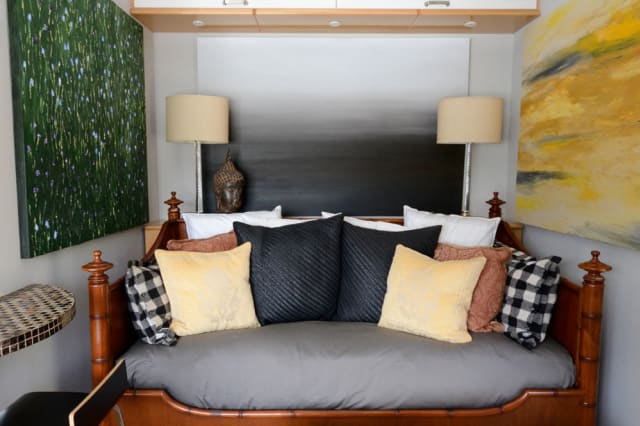 Name: Karen Baumann of Intrinsic Design
Location: Corte Madera, California
Size: 460 square feet
Years lived in: 2 years; Owned
When I arrived at Karen Baumman's apartment in Marin County, just 15 miles north of San Francisco, I was greeted with a glass of delicious lemonade, squeezed from the Meyer lemons growing outside. It was a gorgeous day and the apartment was flooded with sunlight — a nice feature for a 460-square-foot space. Karen, owner of Intrinsic Design, converted the garage of her duplex into this luxe little pad she calls her own while renting the other two apartments. Complete with did-it-herself electrical, flooring, and a mosaic kitchen table, the space is very personal and filled with only the things Karen loves. Her beautiful paintings accent the neutral walls and add dramatic color to each room, including a decent-size office.
What I love about her micro space is that she isn't timid about macro furniture (even her two goldens are big!). "If you put small things in a small space, they just look small," she said to me. A dramatic sofa bed is the highlight of the entry, complemented by treasured artwork like a Buddha sculpture from a trip to Thailand. But it was the entrance to her bedroom that really inspired me. It felt serene and quiet but not boring. The barn-door closet reaches all the way to the high ceilings, with room for more storage underneath.
Karen's an evangelist for micro-living, as you'll see here, but in this case she was preaching to the choir. I converted my mom, who now lives in a space of similar size. Is it a trend for boomers and beyond? Karen makes the perks clear: "You can have a built-in babysitter by converting a garage for parents, and no need to pay for those expensive assisted living bills. You can have three small homes around the country or world for the cost of one large one and then jet-set anywhere. It takes special planning and understanding to create a small space, but once you live in one you'll never want to live in a McMansion again."
Take a look inside, and please thank Karen for sharing her home! For information about her design services, you can email Karen at karen @ intrinsic-design.com.
Apartment Therapy Survey:
My Style: Modern, Transitional, Traditional.
Inspiration: Living in a smaller space frees me. I enjoy having the freedom to have more money, travel, entertain, and spend on my friends and family. It allows me to clean quickly and be more organized, plus I have a lot less clutter. It frees my mind to only have the important and beautiful things surrounding me.
Favorite Element: Ceiling height, and the outside space where I can entertain friends.
Biggest Challenge: Reaching things up high. I haven't installed the ladder system yet.
What Friends Say: WOW! They all think it is about 700 square feet.
Biggest Embarrassment: None.
Proudest DIY: The whole project was a DIY. I pulled the electrical, installed the wood floor, installed the cabinetry, and finished the lighting. The only things I didn't do were the heavy lifting, plumbing connections, and the main electrical box.
Biggest Indulgence: 30" Professional range, and a deep bathtub.
Best Advice: Living small does not mean you have to throw out the luxury. It means you can be selective and love the things that surround you. You can select high-end materials because there isn't much material you can have.
In my opinion, it is important to have separate spaces that do specific tasks. It would be challenging to have to open a Murphy bed every time I wanted to sleep. I want to be able to lie down for a quick power nap in the middle of the afternoon and I don't want to open a sofa every time to do it. It's about downsizing, not downgrading.
Dream Sources: I have a degree in interior design and have had my own firm for almost 20 years, so I try to pull from my life experiences.
Resources of Note:
PAINT & COLORS
Benjamin Moore
LIVING ROOM
Sofa Bed and Lamps, Restoration Hardware
All paintings are original
Snaidaro cabinetry in for the overheads
Chair, Crate and Barrel
Budda head from my travels to Thailand
Floor Tile is Daltile 12x24 Plaza Nova, it is my belief that using larger permanent items make the space look bigger. I didn't use small tile because the grout would make the place look busier.
DINING ROOM
Custom table I made with glass tile from Daltile
Chairs from Ikea
KITCHEN
Cabinetry (repurposed from a project)
Countertops Corian (repurposed from a project)
DCS range
Miele DW
Tile backsplash Daltile Rittenhouse Square
BEDROOM
Custom closet doors I made myself
Interior is from Ikea
Bedding is a combination of many designer sheets, duvet, and coverlet, all different designers
Light is Flos
Painting original
OFFICE
Desk is actually ½ of a dining table I really liked and refinished myself
Lamp, Barbara Barry
Chair, Crate and Barrel
Walnut wood floor
BATH
Tile, Daltile, Polaris 12x18
Tub, Kohler
Toilet, Saniflo it is a special toilet that pumps from the back.
Thanks, Karen!
(Images: Theresa Gonzalez)
• HOUSE TOUR ARCHIVE: Check out past house tours here.
• Interested in sharing your home with Apartment Therapy? Contact the editors through our House Tour Submission Form.
• Are you a designer/architect/decorator interested in sharing a residential project with Apartment Therapy readers? Contact the editors through our Professional Submission Form.