Karthik's Trip Down Memory Lane
We
independently
select these products—if you buy from one of our links, we may earn a commission. All prices were accurate at the time of publishing.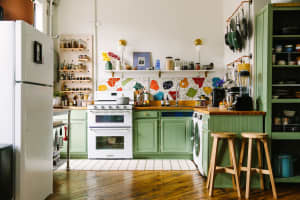 Can't-Miss House Tours Straight to Your Inbox
Keep up with our latest house tours each weekday with our House Tour of the Day newsletter
Name: Karthik V.
Location: Bangalore, India
Size: 1,420 square feet
Years lived in: 4 months
We've had a healthy number of house tours on Apartment Therapy from a surprising number of readers from India willing to open their doors to share with readers on the other side of the globe, and we're happy to return again to Bangalore to a home filled with "surprises around every corner". Colourful, eclectic and proudly influenced by the owner's multicultural family history, Karthik's home embodies something we could only describe as "humble grandness", offering moments of both the simple and the ornate, throughout a home which shares European and Indian architectural heritage.
My/Our style: Fusion – a mix of the old and new
Inspiration: My home is a trip down memory lane. It's an amalgamation of all the influences in my life as i grew up; but more important – it is a reflection of my cultural heritage and past. I come from Chettinad, a region in Tamil Nadu (South India) that is a consortium of around 74 villages. Our ancestors were known for their financial acumen which took them to many countries around the world – Singapore, Malaysia, Burma, and Europe. And they brought in their influences from these regions into their palatial mansions in Chettinad. I have always been fascinated by the vibrant colours and kitsch mix of traditional south Indian, eastern & European influences at my grandfather's and grand-uncles homes in my native town. So I wanted to bring some of it to my own place.
Favorite Element: Every element in my house is close to me and has a story to tell. But the huge restored teak windows in the lounge area would be the one piece closest to my heart. These were picked up when a part of one of most famous gothic structures in Bangalore, St Joseph's college was getting demolished. Built in 1925, these windows are made of pure Burma teak – all they needed was a fresh coat of paint and restoring the broken windows! I own a piece of my city's cultural heritage and that makes me feel happy.
Biggest Challenge: Working with the masons and labourers who operate in their own little world and refuse to reason.
What Friends Say: My friends know me to be someone who can really get obsessed with a project. And they see that when they enter my home. The end of a house tour always ends in "It is so you, Karthik! Full of colour and surprises in every corner". The pillars catch their attention when they enter in; but the turquoise windows in the lounge area is what draws them and it usually ends up being the place where all converge and relax.
Biggest Embarrassment: None really. I love every bit of my home including the cracks in the tiles, the small little leakages in the pipes, everything!
Proudest DIY: There are many – (1) The colourful tile table, I sourced the tiles from an antique shop and got the table done from wood restored from old furniture. (2) The front doors which were picked up from Bangalore palace when a room collapsed and custom-fitted to my house entrance, it's original glass panels broken when getting fixed. I had to look all over until I found a pair of brass plates with enamel work that fitted in perfectly. (3) The side tables in my bedroom which were simple kindergarten chairs that I cleaned up and gave a fresh coat of paint (4) The 'family corner' where I have reframed black n white pics of my family through various generations and hung them randomly from nylon strings – it often gets 'awwws' and smiles!
Biggest Indulgence: None really… I have not spent on anything extravagant! But I would rather spend my money on a unique piece of antique or traditional furniture rather than buy an expensive tv or appliance.
Best advice: Do not use fresh wood, try and restore as much old/antique furniture and keep it eco-friendly!
Dream source: Flea markets and antique shops in unknown corners and also 'Fabindia' , a national chain of stored that has some lovely Indian home stuff
Appliances : I am not too much into high-end appliances. Believe in the brand 'Samsung' ; so have a basic samsung microwave, Samsung 29″ flat screen TV, a Samsung 230ltrs refrigerator and 'Faber' electric chimney.
Furniture: Mostly restored furniture. The twin beds in my bedroom are restored woods in the art deco style in rosewood. So is the daybed in the study which is again in the art deco style and a restored antique piece. Personally, I feel tables make a strong statement as they often form the centre-piece of a room. The table in the dining room is a made-to-order, dark wood with steel legs. The coffee table in the living room is made of restored teak wood and colourful kitsch tiles. The table in the lounge area is a traditional south Indian cradle converted into a table with a glass top. The living room seaters are simple straight line classic look with upholstery in my fav colour these days – mauve! I picked up the turquoise blue single seater with brown floral patterns in impulse at a store since I loved the colour and pattern on it. The study shelves are made-to-order against my own design. The various knobs on it (in various styles and colours) are picked up from different flea markets. The entertainment unit is in a simple retro-style, from 'Fabindia' . The white barstool in the kitchen corner is from Ikea.
Lighting: I love lots of warm yellow light all around the house. The lighting in all rooms is ethnic Indian keeping the traditional décor in mind. The lights in the living room have glass work all around, and a 3-piece chandelier in the same style forms an integral part of the lounge area. I also have simple paper lamp shades around. I feel candle lights also go a long way in setting the mood right for a laidback evening; hence have spread a few candle light holders n different corners of the home.
Paint: I love pure white walls. A simple emulsion based paint is all that I have used on the walls. While the restored windows in the lounge were painted in one of my favourite colours – turquoise blue for a cool Mediterranean feel.
Flooring: the flooring is one of the most low-cost flooring options available in India. The handmade tiles are known as 'Athangudi tiles', named after the place they come from. They were commonly used in the olden days in Chettinad homes, where my ancestors come from. These tiles are known for the various colourful patterns which obviously were inspired from Europe since the Chettiars (my ancestors) used to travel often to Europe and bring those influences to their homes in India. The colours that I selected for the tiles are the most popular ones – maroonish red and a calming yellow. The patterns too are the popular traditional patterns. The tiles give a very 'lived-in' feel to the whole place. These tiles took around two months to get made and were laid down by trained masons from the villages using the ancient method.
Rugs and Carpets: These again are very Indian and ethnic. The one in the living room is a contemporary version of a traditional Indian mat, in wine purple colour with a zari (used in the borders of saris usually) pattern on the borders. The colourful red carpet in the study comes from north India and is again typical of the local artistry.
Window Treatments : I have retained the windows – and just added a fresh coat of classic green enamel paint to them. The gothic 7ft windows in the lounge though were restored and repainted. I also made a seating in concrete next to these windows which are typical to traditional south Indian homes in the past. Just a perfect place to sit and sip a cup of coffee or read the newspaper.
Artwork: I love traditional Indian artwork, especially 'Tanjores' that originate from the south of India way back to 1600AD. These painting are mostly on the Gods and Goddesses and are known for their vivid colours and gold leaf work. In the earlier days the decorations in the artwork would be done with semi-precious stones. The two in my living room are close to 100 years old and were picked up from a local antique store. While the two tanjores in the lounge area are recen works from a local artist. Being a film and music buff, I feel they also make great statements. DO in my living room I have framed psychedelic prints of Elvis and Jimi Hendrix while the bedroom has some old Hollywood film posters framed in colourful red.
Other: The house is 1,420 square feet with 2 bedrooms, a kitchen, a dining area, living room and 4 balconies. The biggest balcony cum utility area got converted into my 'sit-out' or area to entertain friends over some cups of coffee and conversations. The windows in the sitout are again restored from an old gothic structure here in Bangalore, a college built in 1925 that was demolished recently. These 7 ft. windows are made of Burma teak and typical of the European influences in ancient Chettinad homes too.
The pillars used are restored antique pillars that are typical of south India. The pillars used in the study are known as the Yaali Pillars. Yaali is a mythical creature, with the face of a lion, the tusks of an elephant and the body of a serpent or 'makara' another mythical creature. The Yaalis are prominent in many a south Indian temple as sculptures on the walls or pillars since the 16th century and are believed to guard the temple agsint evil. The other pair of pillars used in the kitchen have floral motifs at the top and are again typically found in the southern homes and temples of India.
And check our archives of ATLA's past house tours HERE
We've had amazing response to our Apartment Therapy House Tour Submission Form. While we will work with homeowners of our favorite homes to feature full tours, we will also share the best as House Calls — short, quick tours of readers' homes. Submit your home here.