I'm a Messy Cook and These Are the Only Towels That Keep My Kitchen Tidy
We
independently
select these products—if you buy from one of our links, we may earn a commission. All prices were accurate at the time of publishing.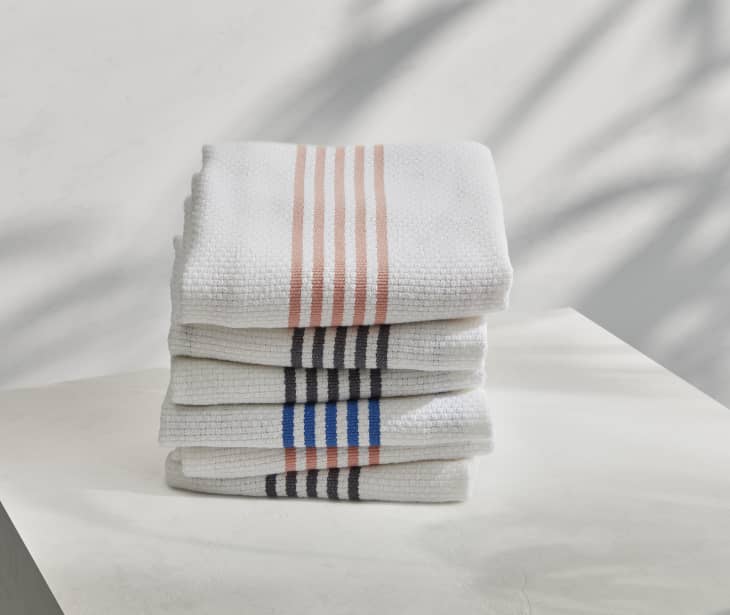 I'll admit it: I'm a messy cook. As much as I try to keep my kitchen tidy during dinner prep, by the time I'm ready to actually eat, my countertops look like they got in a war with the produce section of my local market. There are usually sauce stains splattered on my stovetop, sprigs and ends of various herbs and veggies littered atop my cutting board, and (yes… I'll also admit) most likely some spilled red wine also in the mix.
So, in order for me to cook and not simultaneously create an absolute hot mess, I rely on one cleaning tool to keep the spills and splatters at bay: durable kitchen towels. More specifically, I recently tested out these extra-big, extra-absorbent Kassatex Newbury Kitchen Towels, and let's just say my kitchen countertops have been looking much tidier.
New York-based home brand Kassatex might be slightly better known for their beach and bath towels and sheets for the bedroom, but I have a top tip to share: Their underrated gem might just be their ultra-absorbent cotton kitchen towels. These Newbury Towels are flat-woven and made from 100 percent cotton for absorbency. They also feature a textured, waffle-like weave which I find incredibly helpful for really "getting in there" and absorbing everyday kitchen spills and grime. Aesthetically, these durable towels have a minimalist look that blends into virtually any kitchen aesthetic, and they come in three chic colorways. They're also pretty enough to leave out on the dinner table or next to your charcuterie spread.
My favorite part? The built-in cotton loop along the length of the towel, which allows me to easily hang them from a wall hook in order to properly dry. After washing my set of gray towels, I can also attest to their long-term durability. Plus, at $30 for a set of three, you're getting a luxurious-feeling kitchen towel set at an affordable price point. What's even better? AT readers can get 20 percent off sitewide with the code APT20.
If you, too, are a messy home cook looking for an easy hack to keep things a bit tidier, I recommend these absorbent kitchen towels. They'll help tame your messy meal prep game for good.