Kate's Wonderfully Small Amsterdam Home
We
independently
select these products—if you buy from one of our links, we may earn a commission. All prices were accurate at the time of publishing.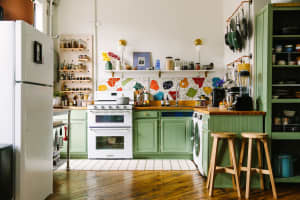 Can't-Miss House Tours Straight to Your Inbox
Keep up with our latest house tours each weekday with our House Tour of the Day newsletter
Name: Kate Clarkson, designer and creator of Moozle
Location: Watergraafesmeer, Amsterdam, The Netherlands
Size: 70 square meters (approx. 750 square feet)
Years lived in: 2.5 years; Owned
Kate Clarkson's colorfully quaint abode catches your eye immediately. This small space feels grand, thanks to her personal touch and lots of quirky accessories. In each room you'll discover geometric prints, vintage furniture, and a splash of 70's fabrics — an interesting approach, with a lovely outcome. And where does all this inspiration come from? Being a designer, of course!
Moozle, Kate's company, has been featured on Apartment Therapy for its customized kids' play teepee tents. I believe Kate says it best when she describes her teepees as "quirky mix of contemporary graphics and vintage textiles". Like her work, her home reflects the same sort of crafty and eclectic design — a perfect mixture and balance. It is clear that Kate loves what she does for a living, and that energy and passion transfers to her home and family.
I really admire Kate's choice of bright and fun colors and fabrics, plus I loved discovering all of her little collections, keepsakes, vintage goods, and prints around each corner. Her design aesthetic certainly makes her home and workspace feel spacious and comfortable. She has a natural ability to dress a room up and down — you could have a party or lounge on the comfy couch with a cup of tea, both equally pleasant and satisfying. Thank you Kate for sharing your home!
Apartment Therapy Survey:
My Style: Our apartment is small but very light, so I wanted to make it feel bigger and maximize on the airy lightness by using a white background with pops of colour and print, 70's fabrics clashing with modern geometric prints, and lots of salvaged painted vintage furniture. I am desperate to wallpaper the wall by my work space, and I think I've narrowed down the design now. I have a Pinterest board dedicated to this, so many choices!
Inspiration: I am massively inspired by colour and print. I love to collate groups of colours in my ideas books, and I base a lot of my designs on the combos I come up with.
Favorite Element: The light in our apartment is really great. It comes from either end of our living/dining room so it is a really uplifting element. There is also a wonderful cherry tree right outside one of the huge windows, and as we are on the first floor, when it is in full bloom it is like a big fluffy pink cloud parked itself outside our window. It takes my breath away whenever I walk in the room — a welcome sight after the long winter.
Biggest Challenge: Living and working in a small space, with two young children too! Luckily there is a great green space with some very mature trees right outside the front door. I would collect more 'stuff' if I had the space, so often I buy beautiful vintage things and sell them on my Etsy shop even though I'd like to keep them really.
What Friends Say: Friends who are used to (small) Amsterdam apartments say that they love how light and relaxing our place is, they like the playfulness of the colours. Family and friends from back in the UK usually firstly comment on how small it is!
Biggest Embarrassment: That we have too much stuff… even more in storage in the UK.
Proudest DIY: Not sure really — I like the wallpaper 'tiles' in the fireplace, We made the headboard of our bed and that turned out well, and Den jigsawed out the elk's head above the mantle, and painted all of the thrift furniture too.
Biggest Indulgence: Buying a big flat screen TV just to watch Andy Murray in the Wimbledon finals last year. At least we got to see all of his matches on it this year!
Best Advice: Buy what you love. Experiment, use your home to express who you are and what you love, and don't be worried about doing what is on trend or your home wont feel like your home.
Dream Sources: Oooo where do I start… Josef Frank fabric and wallpaper, Marimekko, Designers Guild has some beautiful prints and things, Scenery home wares, the Rug Company rugs, and I am in love with Nathalie Lete's work. A-mazing. I want so much of it, from her rug designs to her wallpaper and ceramics.
We are big fans of Farrow and Ball paints esp in eggshell finish we use them a lot usually in shades of grey.
Selection of different designers wallpaper 'tile' in the fireplace (Joseph Frank, Designers Guild, Orla Kiely, Ferm Living).
Helen Dardick print 'Sweet Milk' in an IKEA frame.
DIY elk head above on the wall, covered in 70's wallpaper one side and white paint other so I can swap it around.
Vintage 70's vase with Jurianne Matter paper flowers.
Vintage linen closet pained in Farrow and Ball eggshell slipper satin.
Family tree print above the TV by Familie Summerbelle.
Self made mdf brid with 70's wall paper.
Vintage Dutch folk art plate.
Helen Rawlinson lamp and shade.
Sofa from Marktplaats.
Cushions by Scenery, Ferm Living and vintage prints.
Standard lamp found on street, painted in F+B lime white and salvaged shade re-covered in Designers Guild fabric.
Marktplaats farmhouse table base re-painted with Farrow and Ball 'slipper satin'.
Bistro chairs from Marktplaats.
Dresser bought at a 2nd hand furniture warehouse in Wales, painted in F&B 'Elephants Breath'.
Vintage plates and jugs on dresser.
On Walls , Ikea frames with vintage postcards and prints by various designers: Rob Ryan, Helen Dardick, Danita, Belle and Boo, Meg plate by Donna Wilson, Dunny Bunnies by Kidrobot. Bird box by Mihounexpected.
String lights by Cable and Cotton.
Wire card rack salvaged from my mums old shop with vintage and new cards and things.
Vintage kids wall plaques for sale on the moozle Etsy shop.
A funny little sock character that I bought at Spiralfields market in London greets you upon entry – lets face it, there's not much space for anything else! He dangles from the door knob of one of the storage closets.
Coat pegs from Woonliving.
Metal stags head, I forget who it is made by. Pom poms strung from some of the kids craft supplies.
Print of bunny with a moustache by Andrew Bannecker in an Ikea frame.
Pom Pom scarves by Pom Amsterdam.
Neon pink and grey scarf by Jo Gordon.
Floral tote by Helen Rawlinson.
Mustard yellow leather bag from street market in Italy.
Fox kids back pack by MIBO.
Yellow wellies from Hema.
Vintage silk kimono.
Self made vintage hankie curtain in window.
Ceramic roses wall plaque above window by artist Miranda Thomason.
Vintage close closet given by a friend, re-painted in F&B 'Cornforth White'.
DIY bedhead.
Helen Rawlinson lamp and shade.
Thrifted floral pintings on wall above bed.
Orla Keily bedding.
Mibo fox cushion on bed (starts out as a dish cloth that you can cut 'n sew).
Carboot letter type set tray, with Frem Living doll house scale wallpaper insets, houses a collection of vintage rubber houses (on moozle Etsy shop), vintage wooden block puzzle pieces and Japanese nesting Dolls.
Ikea TROMSÖ bunk beds.

Hema bedding.

Vintage 70's curtains.

Moozle appliquéd bunk tent.

Toadstool lamp bought from Kitch Kitchen.

Bunting made from vintage handkerchiefs.

Type-set tray from boot sale, vintage wallpaper insets, houses Dolly's collection of Hello Kitty collectables and bits.

Moozle crochet blankets.

Chad Valley dolls house.

On wall prints by British illustrator Tracey Worral, Donna Wilson and Noodoll.

On bed, plushies by Moozle (bunnies), Sleepy King, Vintage Jane, lion cushion by Helen Rawlinson.
(Images: Breanne Johnsen and Kate Clarkson)
• HOUSE TOUR ARCHIVE: Check out past house tours here.
• Interested in sharing your home with Apartment Therapy? Contact the editors through our House Tour Submission Form.
• Are you a designer/architect/decorator interested in sharing a residential project with Apartment Therapy readers? Contact the editors through our Professional Submission Form.