Kathie's Eclectic Rhode Island Live/Work Space
We independently select these products—if you buy from one of our links, we may earn a commission. All prices were accurate at the time of publishing.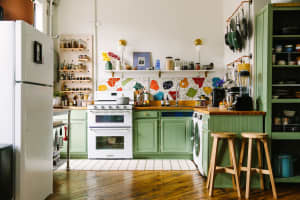 Can't-Miss House Tours Straight to Your Inbox
Keep up with our latest house tours each weekday with our House Tour of the Day newsletter
Name: Kathie Narcizo
Location: Newport, Rhode Island
Size: 1,100 square feet
Years lived in: 13 years; rented
When Kathie moved back to her hometown of Newport 13 years ago, her brother Dave knew he had found the perfect spot for his artistic sister to thrive. "It wasn't pristine," she remembers her first impression of the former auto parts warehouse turned apartment, "But, oh, how I loved the space, the sense of space, the height of the ceiling, knowing I would have to live and work here."
With a recording studio next door and various other artists living and working in the converted industrial building, Kathie felt an immediate sense of camaraderie with her creative neighbors. "Throughout the years, there has been a collection of extremely beautiful and talented people who have lived in this building," she says with a sense of appreciation.
Having always lived in historic homes and apartments where changes were off-limits, Kathie was delighted to finally settle into a place without creative restrictions. This new home was full of possibilities. The self-taught artist approached her new space the same way she delves into her work: like a kid at play.
Kathie's live/work space changes seasonally to coincide with the inspiration for each of her new Teahan K woven metal jewelry collections. Art and textiles rotate, furniture is rearranged, wall colors change; nothing is off-limits. When Kathie is tired of a certain configuration, "it comes down as fast as the speed of light," she says with a smile. "There's no work in progress. If it takes me until 2:00 in the morning, I'm doing it. If it's not speaking to me and making me still feel free to think, it's gotta go." Among this constant flux, Kathie's goal for her live/work space remains the same: "This place has to stimulate me, but not overstimulate me."
Kathie's extensive textile collection, including quilts handmade by her mother, fill her home with patterns, colors and textures that inform her work. "They speak to me in a language that I understand. I am primarily a fiber artist who applies textile techniques to metal," she explains, "I often study the pieces, the stitchwork, the choices that artist made in terms of color and shape."

In addition to fabrics, Kathie's home is filled with an abundance of containers. Wood, metal, straw and glass; they are everywhere. They hold food, toiletries, tools and beads. Everything that enters her home in conventional packaging is transferred to a container. They help her compensate for the lack of cabinets, drawers and closets that are usually found in a traditional living space. Seeking them out at thrift stores, yard sales and catalogs has become a bit of a hobby over time.

Over a decade later, Kathie's ever-evolving space continues to be a source of excitement. For this lively artist, there is little differentiation between home and work, the two are inextricably linked. "My space is a living work of art. It is a reflection of me, parts of me that I can't articulate in words."
Apartment Therapy Survey:
My Style: Bohemian Chic with a bit of modern Arts and Crafts

Inspiration: I live where I work and change my space a lot as I change my work; the two are linked. My space has to inspire my work. The inspiration can be a period in history, an artwork, textile or something in nature. Two designers that inspire me are Sibella Court and Jonathan Adler.

Favorite Element: I love my space altogether and am so lucky to live in such a unique environment.

Biggest Challenge: Storage!

What Friends Say: My friends love my place, how it's always changing with so many interesting things to encounter. What makes me happiest is when they tell me that it has a great feeling –relaxing, peaceful and full of light.

Biggest Embarrassment: I am always embarrassed during my busiest production times, like the holidays. Every part of my space is commandeered by the jewelry. The kitchen; for example, becomes the packing and shipping station. I cannot even cook in it or offer a guest anything…lots of take-out!

Proudest DIY: My production room. It took years to find all of the workstations and to solve my storage needs in a way that would not distract me and would feed me aesthetically. The space was inspired by the works of Charley Harper and Alice in Wonderland. I wanted it to feel like a child's playroom to encourage me to play.

Biggest Indulgence: Fabric! And the framing of my Calder poster.

Best Advice: Someone once told me, "Design your space for the life you really live". I would add don't be afraid to change your space, you can always repaint, move the furniture back, rehang the curtains. And surround yourself with the things you love; they all have a story to tell…

Dream Sources: Hancock's of Paducah Fabrics, Yard sales, Church Fairs, Arts and Crafts Shows, Thrift stores and of course, generous friends and family.


Living Room/Kitchen: Ralph Lauren "Stateroom Red"
Library/Office: Behr Premium Ultra Plus "Coral"
White walls in kitchen, bedroom and workroom: Ace Royal Exterior House Paint Flat White
Brick Walls: Ace Eggshell "Snow"
Ceilings, Girders, Overhead Pipes: Behr Premium Ultra Plus Semigloss White
Rustic Furniture: Coat rack, coffee table, end table, short cabinet and armoire made by my father, Joe Narcizo
Couch: gift from my aunt, Kay Martellino.
Slipcover – Pottery Barn
Crewel embroidery cover – gift from friend, Sarah Tall
Pillows made from vintage 1960's fabric – Salvation Army
Rocking chair inherited from my grandfather, Mike Foley
Wool throw made by me, yarn – Sakonnet Purls Tiverton RI
Curtains – vintage "redwork" – ebay
TV: oak boxes used by catering co. McCrawley's who did all of the Newport parties in the 50's, 60's….gift from my landlord, Mr. and Mrs. Paul Lamond
Painting above tv inherited from my mother, Peg Narcizo
Seaweed – Jamestown Beach found with my friend, Chris Hyder who calls the beaches, "God's department store"… I love that!
On End Table: lamp – Salvation Army, 1970's ceramic bird – Kitty's Broken Toaster, Balsa wood wreath – gift from my friend, Philip Lapides from Courtyards, Tiverton RI
On coffee table: concrete tile – Ted Sturtevant, Black wooden bowl used to make candleholder – Courtyards, Tiverton RI
Oval table and Windsor chair inherited from my grandmother, Isadore Narcizo, pillow on chair made from sari fabric gift from my best friend, Denise Gantt from her recent artist residency in India. Vintage fiestaware cake stand inherited from my grandmother, Anna Teahan Foley.
Mural by my friend Charles Macsherry
Embroidery hoops used as wall art – Michael's
Cork Willow Branches left behind by previous tenant in my first apartment after college, Baltimore. Planters – IKEA, uplights inside planters – Christmas Tree Shop
Magazine Basket – loulousdecor.com
Standing Lamp gift my my brother and sister in law, Misi and Dave Narcizo
Chandelier made from a sheep shearer's basket – yard sale, Christmas Lights – Ocean State Job Lot
Lamp on tall armoire: wooden base – Salvation Army, feather wreath and silk fabric – Savers, Lamp shade gift from friend, Sue Lamond.
Stools – gift from Sue Lamond. They were once used in her restaurant, Salvation Café
Lamps over sink made from clamp lights – Newport Hardware
Mirror – gift from my mother and father
Mobile traded with artist, Hotchkiss Mobiles
Bull's Eye Lamp and Circle Tray hung on wall – Kitty's Broken Toaster
Bull's Eye Tray and Paintings by me
Pantry: cannisters – gifts from family and friends plus various stores in the antique district of Warren, RI.
Fabric on pantry door, under sink and glass cabinet – vintage – gift from my mother, Peg Narcizo
Barber chair inherited from my friend, Tom Stopanio. Burlap coffee bag – gift from my friend, Scott Rancourt, pillow made from Enchino fabric – hartsfabric.com
Filing cabinets left by former tenant in our building. Danish Modern Ball Lamps – Congregational Church Thrift Store, Newport RI
Glass cabinet from the Seaberry Estate Newport RI – gift from my parents. Branch Lamp – Salvation Army.
Glasses/Dishes – inherited from grandmother, Anna, yard sales, trades with artists, gifts from family and friends.
Wood Basket – gift from my friend, Marti Macsherry
Bed: antique that I rebuilt new slat frame and repainted – yard sale. Indian Kantha Indigo Coverlet – bought from Indian artist, vendor at World Quilt Show, Manchester NH. Duvet cover – Ralph Lauren – The Pelmet House Newport RI. Pillow cases – Ralph Lauren – Ocean State Job Lot. Floral Pillow made from Japanese Fabric – Hancock's of Paducah. Swan sculpture – Lulabel's Kingston RI
Bedside tables : bases inherited from my mother's sewing studio, tops 2×2 plywood, painted. Bedside Lamp – Salvation Army. Concrete Bowl and Tile – Ted Sturtevant. Morrocan Lamp as candleholder – yard sale. Driftwood/shell bowl made by my father.
Dresser deconstructed and repainted black lacquer gift from my sister in law, Misi. Lamp on dresser- yard sale. Concrete bowl and tile – Ted Sturtevant. Ceramic Bird – Pier One Imports.
Sculpture: Lady in a Box gift from the artist, Geoffrey Matthews.
Japanese Wall Panel – dumpster dive from a restaurant renovation, Baltimore.
Pen and Ink Artwork – first trade made with a fellow artist, Hopper Emory, Baltimore.
Bamboo Mirrors, a Feng Shui cure – Salvation Army
Fabric over storage loft – The Pelmet House Newport RI
All rustic bookcases, chests, lamp and mirror made by my father.
All metal cabinets painted to match wall – gifts from friends.
Desk from the Seaberry Estate – gift from my parents. Desk chair – dumpster dive, Baltimore. Pillow Sham from South Africa – Congregational Church Summer Fair, Little Compton RI. Desk Lamp – St. Joseph's Church Holiday Bazaar Newport RI
Painting above desk by me.
Antique miniature greenhouse inherited from my mother. Metal flower inside by friend and artist Steve Cooper stevecooper.com
Quilt made especially for my space by my mother with one of my favorite textile artists fabrics, Kaffe Fassett. Fabric – Hancock's of Paducah
African Baskets inherited from my grandmother, Anna, my mother and gift from my friend Alison Webb.
Angel Doll on mirror and Purple Angel Doll on bookcase made by my mother. African Zulu Doll – gift from my best friend, Denise bought as it was being made from her trip to South Africa.
Painting above mirror by my friend, Charles Macsherry
Calder Poster gift from my nephew Ike Narcizo
Console Cabinet – gift from Misi and Dave Narcizo. Work table – gift from my brother in law, Don Gunning. Chair – Salvation Army, fabric- JoAnn's. Lazy Susan on main work table gift from the artist, Meg Reagan
Red work tables built by my father. Dressers gift from my parents.
Bookcase from Island Arts, Tall Metal Cabinet and Vintage Blackboard – dumpster dive, church renovation, Baltimore, Colorblock Metal Cabinet – gift from friend Rocco Michaluk. Concrete bowl with branches – Ted Sturtevant
Wooden bowls, cannisters, boxes and spice racks – yard sales and thrift stores.
Metal Flowers – Steve Cooper
The Dude – painting on wood – Elks Craft Fair, artist, Horacio
Bird Painting bought on sidewalk outside MOMA NYC from street artist, Wally
Charley Harper Poster – Cornell Lab of Ornithology birds.cornell.edu
Closet: Baskets made by my mother, wooden boxes gift from Mrs. Paul Lamond. Bird Cage Memo Board – Wave Gallery New Haven CT, Galvanized Metal magazine rack gift from Misi and Dave. Metal Picnic Basket – yard sale.
Jewelry — Teahan K Jewelry, 77 Dr. Marcus Wheatland Blvd, Newport RI 02840, Wholesale/retail inquiries: 401-841-9393 / Narci4@aol.com
Teahan K Jewelry is available at the following galleries: Artitudes West Newton, MA, Silver Ribbon Westport, CT, Wave Gallery New Haven, CT, As Kindred Spirits Rockville, MD, Eclectic Galleries Dallas, TX, Gallery Morada Islamorada, FL, Hillyer House Ocean Springs, MS, Courtyards Tiverton, RI, la V curiosite Newport, RI
• HOUSE TOUR ARCHIVE: Check out past house tours here.
• Interested in sharing your home with Apartment Therapy? Contact the editors through our House Tour Submission Form.
• Are you a designer/architect/decorator interested in sharing a residential project with Apartment Therapy readers? Contact the editors through our Professional Submission Form.
*Re-edited from a tour originally published in 2014