Katy's Space: Art & IKEA Hacks in Dubai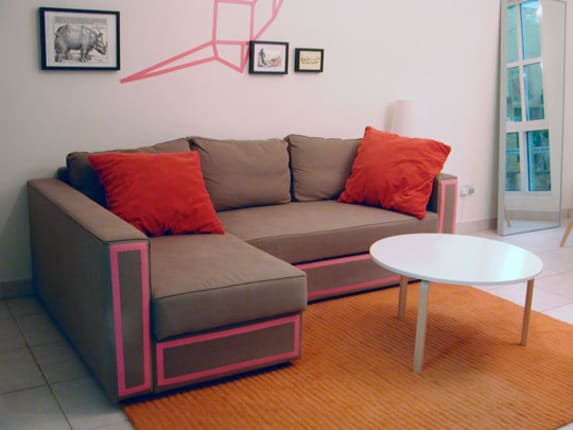 Name: Katy Mer-chan
Location: Dubai, United Arab Emirates
A big misconception about Dubai is that everyone is wealthy, so I thought it might be fun to show you how the fabulously unwealthy live in under 400 square feet! I'm making a feature length documentary about art and urbanization called Cultural Capital: Finding Art in Dubai coming out next year. I live in a 1 bedroom efficiency apartment that doubles as the production office for the film. The space is very minimal so I can decompress from the hectic nature of the city. And — maybe because I look at art all the time, my walls are somewhat blank?!
The furniture is mainly from a local retailer The One and IKEA. I know buying a lot of IKEA can be problematic, but I recently arrived in a new country with only my suitcases. And I bought almost everything secondhand (a lot of people have been leaving Dubai). More details about home:
THROUGHOUT THE HOUSE:
• Most floors here are tile because of the dust and sand.
• Book cloth tape is a great way to temporarily decorate. I used it to create a frame for the posters in the bedroom. In the living room, book cloth tape adds edging to an otherwise plain sofa. And of course, I like to switch up the walls with it too. Using one color helps pull the elements together.
BEDROOM: The posters were a collaboration with artists and Bidoun, a Middle East arts and culture magazine. I'm lucky to get a dose of green and privacy from these two tall trees that are in front of our almost floor to ceiling windows. Here's the view outside the bedroom with Bupesh, the building's very nice and brave window washer!
KITCHEN: The kitchen is in a closet. I used curtains to hide it — the refrigerator sits on the counter! This might be more appropriate for TheKitchn, but because ingredients are somewhat hard to source here, I've had success in the tiny kitchen with homemade yogurt, camel milk cheese, kimchi, and sauerkraut. Dubai has good probiotics floating around the air!
MAIN ROOM: This is my live/work/eat space. The "editing room" lives inside the wall-mounted desk on the right. The coffee table is an IKEA hack, where I took the IMFORS tabletop, a two tiered coffee table with metal legs, with pre-drilled holes and put in legs from a FROSTA stool. I even made an extra table for friends with the spare parts!
Thanks Katy!
• HOUSE TOUR ARCHIVE Check out past house tours here
• Interested in sharing your home with Apartment Therapy? Contact the editors through our House Tour Submission Form.
• Are you a designer/architect/decorator interested in sharing a residential project with Apartment Therapy readers? Contact the editors through our Professional Submission Form.
Apartment Therapy supports our readers with carefully chosen product recommendations to improve life at home. You support us through our independently chosen links, many of which earn us a commission.