Keep Your Kitchen Fresh Without Taking Out The Trash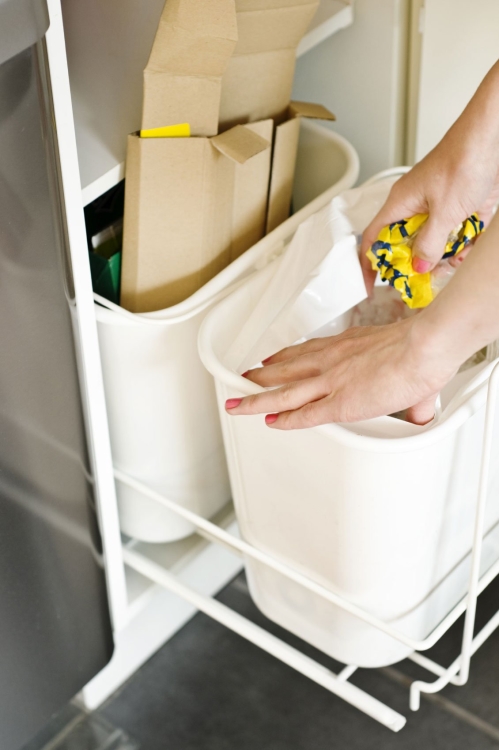 Nothing says "welcome home" like a lingering, unwanted smell. Ok, so we know that a trash can isn't going to end up smelling like fresh baked cookies, but is it too much to ask that it not stink up our entire home? It either seems like we're going through half-filled trash bags at an alarming rate just to take that thing to the curb, or holding our noses in the kitchen until we figure out the smelly culprit. Here are a few seriously simple ways to get rid of whatever that kitchen smell is.
De-Stink The Sink
There are a few ways you can kick that kitchen sink smell to the curb (and keep it from coming back). The most popular trick among our readers for getting rid of sink drain smells? A bubbling, baking soda-and-vinegar mix, washed down with very hot water. We also recommend adding some coarse salt to the tried-and-true baking soda and vinegar combo – it offers just enough extra abrasion to break up the gunk. And for those of you who have a garbage disposal, our cleaning shortcut is to freeze lemon wedges in white vinegar, and then crush it in the disposal!
Simmer Down
Stove top potpourri, also known as a simmer pot, is smell-good, classic way to bring natural scents into your home. Just choose a few aromatic spices, herbs and fruits, cover them with water and heat it up in a saucepan on the stovetop (or in a fondue pot). We recommend a mixture of apple cider, cinnamon sticks, nutmeg, and vanilla extract for a sweet and spicy fall aroma. Whatever your current smelly situation is, a simmer pot is a surefire way to make your home smell amazing.
Treat The Trash
Getting rid of that trash smell is all about choosing the right indoor trash bag – the one that makes you forget it's there entirely. GLAD® Indoor Bags help to neutralize those icky smells, instead of just covering them up. Infused with Febreze™ (that stuff we've been using to neutralize all the smells since the 90s), you'll no longer have to play the dreaded "what's that smell?" game. And with loads of scents to choose, from fresh to lavender, you can decide exactly what your space will smell like.
But don't think these bags are just for your everyday trash. GLAD has a variety of indoor bags that are actually perfect for big holiday party cleanup – available in different scents and sizes, these bags make even the fullest bag simple to lift and carry.
Ready for your home to smell so fresh and so clean-clean? Visit glad.ca to say goodbye to that uninvited odour!