Kim's Interview: Strong Visual Impact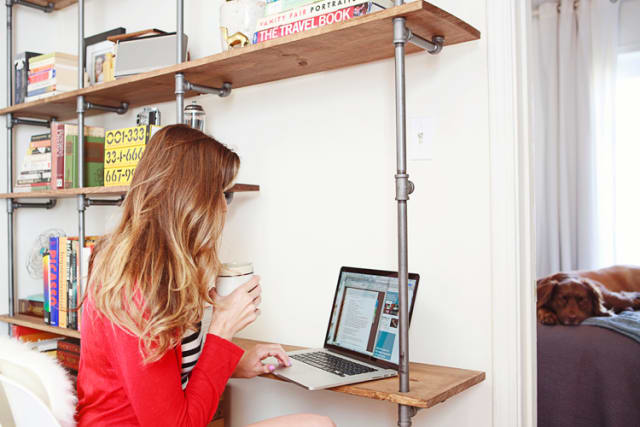 The assignment for Day 1 of the style cure is to complete the Style Cure interview, easy right? Well apparently I have a hard time choosing favorites, which could explain my inability to finish a room.

Style Cure Interview:

1. List your favorites in each category:
- Actor: Jeff Bridges, he brings his dry delivery to every role and his timing is always spot on. He's known for "the dude" but I loved him in True Grit. I'm a huge Cohen Bros fan.
- Actress: Melissa McCarthy, I loved her on Gilmore Girls and I love her even more now. She isn't afraid to just go for it.
- Artist: Robert Frank. He had a completely unique way of seeing the world and the ability to communicate it to others through his imagery.
- Writer: Antoine de Saint-Exupéry, Bob Dylan, Tobias Wolf
- Music: I grew up on Johnny Cash and my current obsession is Lorde.
- Restaurant: The Salty Pig in Boston, Foreign Cinema in SF.
- Automobile: Fiat for the city, Vintage Airstream for camping.
- Movie or Television Show: Anything by the Cohen Brothers or Wes Anderson.
- Clothing (pieces, designers or stores): Marc Jacobs, Anthropologie, Local Boutiques (Flock in Boston, Ambience in SF)
- Furniture: Eames shell chairs- They look good no matter what. Statement art can make a room and instantly convey the most about you. Worn in ethnic textiles like kiln rugs and Kathana quilts instantly give a room a sense of history and keep it from feeling to sterile.
2. Choose three words to describe your personal style:
- Personal
- Inventive
- Vintage-Modern
3. Think back over all the homes you've lived in, both as a child and an adult. Which rooms would you choose as your favorites and how would you describe them?
My current living room, it's tiny but a well curated expression of where I'm at in life.
In my first college apartment the common area was furnished almost entirely with set furniture from photo-shoots and was much nicer than we could have afforded otherwise. It was the perfect space to entertain and we would all spend evenings around a round table chatting and working on class projects.
When I lived by myself in Boston my bedroom was decorated all in grays and whites giving it a relaxed almost cloud like feeling. It was my personal escape from the world.
Favorite room from a childhood home and description: My dad's library always held a certain fascination to me as a child, an avid reader and collector he filled it with custom shelves that ran wall to wall and floor to celling stacked two volumes deep with books all the way around.
Favorite room from an adult home and description: My current living room makes me happy every time I look around it, it has a skylight which means I have a ton of happy houseplants, all of our books, art and my vintage camera collection are on display and we have a perfectly worn in leather sofa that manages to be equal parts comfort and style.
4. Whom do you consider a role model? Blake Mycoskie, founder of Toms.
What three adjectives describe the qualities that you admire in this person?
- Social responsibility
- Entrepreneur, believes in his own ideas
- Well-traveled
5. Every home has areas that are "just right". Which three spots or things in your home do you feel are beautiful and feel proud of, right now, as is:
- The bookshelves
- The gallery wall
- The sofa
6. A month from now, at the end of the Style Cure, how would you like your friends to describe your home?
- Creative
- Well organized and a good use of space. (It's tiny!)
- An effortless, collected look.
Going back over my responses here's what stood out to me.
Questions 1 & 2: I love things that have a strong visual impact but also reflect real life and have a little bit of edge. I like things that are rooted in the past with a sense of history juxtaposed by things that are fresh and modern and there has to be an element that's a little off kilter to keep things interesting.
Questions 3 & 5
Being surrounded by the things I love and find inspiring is important to me, as is the ability to share it with others. I also need a quiet space to retreat to when it's time to relax.
Questions 4 & 6
Both responses indicated that travel is important to me and I want a look that is collected and reflects all the places I have been. I also value social responsibility which leads me to try to purchase items that are local or sustainable, and I want a space that is well functioning so I am able to utilize what little space I have.
(Images: via Kim Lucian)