Granada Tile Sale at the Foundary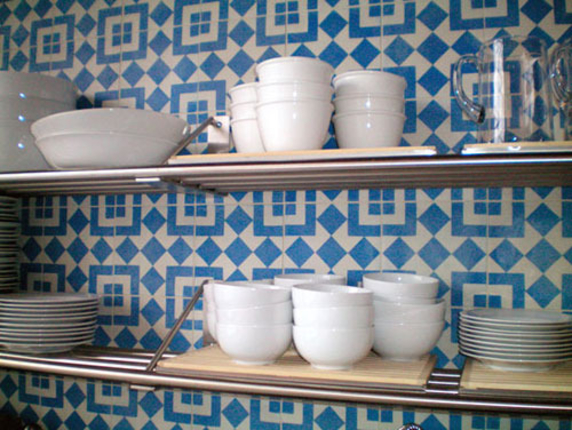 You know how we put so much effort and money into decorating our living rooms, and then when we entertain, everyone always ends up gathering in the kitchen? The kitchen is, after all, the heart and soul of a home, and where so much of the living actually happens.
The Foundary
believe that a well-decorated kitchen makes home-cooking easier and more pleasant, and definitely makes it more fun to entertain. And even better: according to
Angie's List Magazine
, sprucing up your kitchen offers the best Return on Investment of any renovation project in your home!
Shop The Foundary's Granada Tile Sale Now!
But you don't have to undergo a huge, costly renovation, replacing cabinets and countertops. There are so many simple tweaks you can make to the kitchen that can really improve the whole feel of the room, whether it's changing the lighting or adding a sideboard on casters. Or, our favorite, swapping out your existing backsplash for something a little more interesting. Tiles are an inexpensive material and can even be a relatively easy DIY. But instead of going with a conventional, solid-colored backsplash, why not add color and texture with geometric prints or Spanish-style florals?
That's why we're so excited about the special sale our friends at
The Foundary
are holding starting tonight featuring Granada Tiles. Choose from a range of geometric or Spanish-inspired tiles, and see how they transform your kitchen from simply functional to totally fabulous!
And these tiles aren't just for the kitchen. Patterned tiles look great all over the house, on the floor in an entry, around a fireplace, in the bathroom. (I'd love to see the black-and-white geometric pattern in image 5 in a bathroom, maybe with pink accents? So Deco!) Where would you use them?
Don't forget, we've teamed up with The Foundary to present the London Calling Sweepstakes! The winner receives a trip for 2 to London, with accommodations by Mr. and Mrs. Smith.



Join The Foundary To Enter The Sweepstakes!
With daily sales of up to 70% off, the Foundary, a home furnishing, décor and accessories flash-sales site, is a members-only resource for exclusive, limited sales. The Foundary scours the globe to introduce its members to designers and brands whose products are not only stylish and of lasting value, but also spark the mind and help turn a house into a home.

Join, Like and Follow the Foundary!