9 Kitchen Trends To Avoid, According to Real Estate Agents
We
independently
select these products—if you buy from one of our links, we may earn a commission. All prices were accurate at the time of publishing.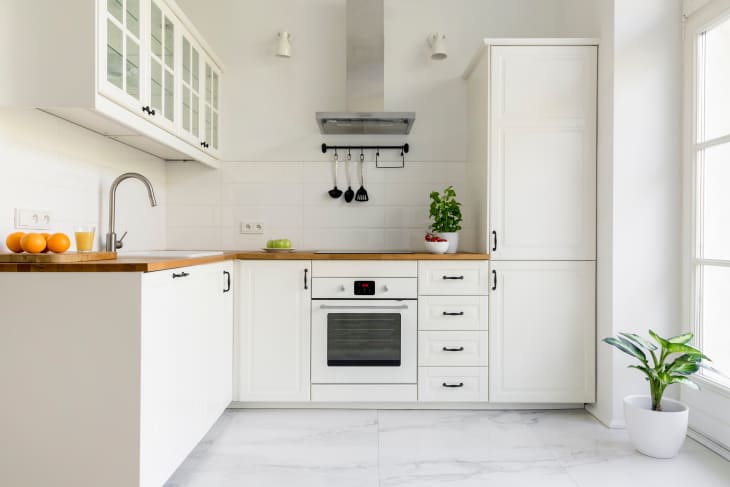 One of the most interesting home kitchens I've ever seen combined aspects of Americana and Greek styles. It was in Illinois; the kitchen had carved wood valances around a fake shingled roof, all accented by regal Greek columns that you might find in a fast-casual gyro shop. I was house hunting at the time and ultimately passed on this spectacular piece of property.
Does a kitchen like that tend to turn buyers off? Sometimes. I asked a few real estate agents from around the country what kitchen trends are a bad investment. These are the ones you should probably skip — so don't make the same mistake those previous homeowners did.
Frosted or Shaded Light Fixtures
A lot happens in a kitchen. It's a gathering space, it's filled with appliances, and people are always making use of its surfaces. Frosted or shaded light fixtures, though once popular, just make kitchens seem busier and more enclosed.
"Why not change out your lighting options for clear glass covers or an open light fixture?" says Anastasia Hartmann, a real estate agent with RE/MAX Professionals in Cottage Grove, Minnesota. "You will add more light to the space, [which is] especially helpful if you cannot have an open kitchen overlooking other parts of your home."
Hartmann also notes that having brighter light fixtures will allow you to experiment with more colors or mixed metals — they won't feel overwhelming when you can see everything clearly.
Granite, once the gold standard of kitchen countertops, is out. Paul Chastain, a Keller Williams real estate agent based in Walnut Creek, California, says marble, wood, and concrete are better options right now. And we may have television to thank for that.
"Joanna Gaines has changed the preferred look to white quartz or quartzite countertops," says Maggie Richter, a real estate agent with Baird & Warner in Libertyville, Illinois. "The various granites that were hot in the early 2000s definitely date a home now."
Traditional Woodgrain Cabinets
Stay away from the standard wood grain cabinets, in both style and size.
"If you ask me, that was never really in style," says Jeremy Porter, an agent and consultant with HomeSmart in Orlando, Florida. He also says to avoid cherry-colored cabinets because they look dated.
Plus, Chastain says, traditional cabinetry shapes and sizes are quickly being outpaced by space-saving shelving systems and larger pantry-style cabinets.
Right now, open shelving is a gamble. Arlene Quirk, an agent with Keller Williams in Milford, Pennsylvania, says it's absolutely on trend and is eclipsing the desire for closed cabinets, but Richter worries they may not have staying power.
"Many homeowners that see it in new construction question how to use it long-term," she says. "Cabinets with doors hide a multitude of sins!"
Just like with the rest of the home, Quirk says, open floor plans are in and are here to stay. You may not always want to see the mess that can pile up in the kitchen, but closing everything off no longer fits contemporary tastes. Chastain refers to open floor plan kitchens as "Kitchens Without Borders."
"Separate kitchen space is going out of style," he says. "[Instead, choose] flush mount cabinetry and tidy smooth finishes that fade the modern kitchen function into the living space with little or no separation in look."
You can accomplish that flow from kitchen to the rest of the house with light paint and wood colors, avoiding the current kitchen trend of darkness everywhere.
"There is a move to darker paint and wood colors," Chastain says. "But you must be careful here because good color is a function of space size and light. You need a large kitchen or lots of light to get away with darker colors. Dark spaces are still a detractor of value."
DIY Backsplashes and Cabinets
I know it saves money and allows for endless creative expression, but kitchen DIYs? They're a no-go. That includes everything from backsplashes to painted cabinets. Just don't do it, Richter says.
"Generally, the quality of the installation gives away the DIY factor," she says. And cabinet paint is usually trouble. "Sellers who paint their oak cabinets with the curved panel are making a huge mistake. The shape of the cabinet door dates a home immediately. Trying to paint over an oak surface is very challenging; the grain from the wood is impossible to remove even with the best artisans. And never reface. The old box of the original cabinets with the custom shelf paper gives it all away."
Instead, pony up for completely new cabinets if you want to redo your kitchen design.
"Good agents can spot these things immediately and then we start to check to see what other things the homeowners might have done to the house," Richter continues. "When kitchen millwork doesn't match the rest of the house, it shows the DIY factor."
Quirk says it best: "Simple and chic are in. Plain styles are back." That means avoid anything that doesn't have clean lines or can come across as ornate, like intricate handle pulls, decorative wood, oddly shaped islands, and styled cabinet and drawer fronts.
Porter says that if the kitchen doesn't match the rest of the house, it's a deal breaker — so skip shabby chic or mismatched flea market style if the rest of your home skews midcentury modern.
"The main thing I've seen that doesn't really work is if the kitchen doesn't fit the area, like if everything in a house is contemporary and the kitchen is more like a rustic Italian villa," he says.