KitchenAid Launched a New Line of Cordless Countertop Appliances — and They're Total Game Changers
We independently select these products—if you buy from one of our links, we may earn a commission. All prices were accurate at the time of publishing.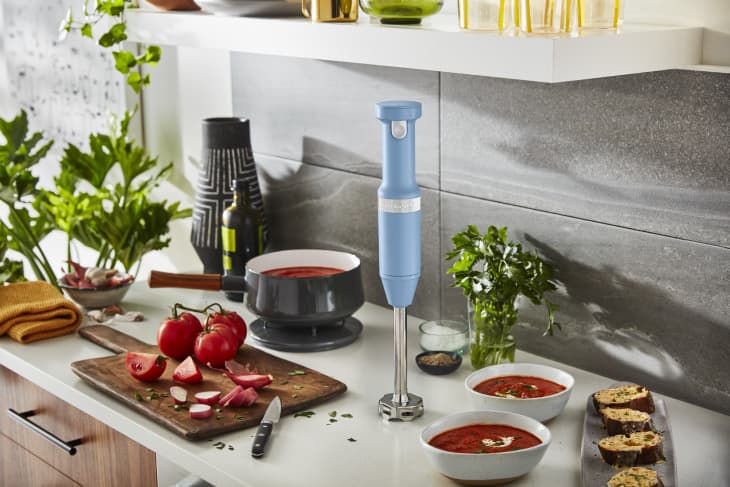 Every so often, an innovation comes along that totally transforms the way we function in our kitchens. Case in point: KitchenAid's new line of cordless appliances, which gives you the freedom and flexibility to meal prep wherever you want — no outlet required! The range includes a chopper, hand mixer, and hand blender that come in seven attractive colors and are powered by a long-lasting, rechargeable lithium battery. Unlike other cordless appliances that tend to have low speed and battery power, each charge can power through multiple jobs (you can chop up to 40 onions in the chopper on a single charge!). An indicator light lets you know when the battery level is dropping, and once plugged in, the appliances can go from empty to fully charged in as little as two hours. With no cords to worry about, you can use them in kitchen areas where you don't have easy access to outlets or even take them to the backyard for your next cookout.
Follow Topics for more like this
Follow for more stories like this
1. Cordless 7-Speed Hand Mixer
Every kitchen needs a good hand mixer to make quick work of batters, doughs, and even our new favorite whipped cream recipe. And while we love KitchenAid's classic hand mixer, this cordless option is a serious upgrade! Instead of tangled cords that limit your mobility, you'll be empowered (literally), to use this mixer wherever you want. Seven speeds are controlled via a single dial on top of the mixer's handle, which also displays the battery level so you know when it's time to charge. The mixer has enough power to make up to four batches of chocolate chip cookies on a single charge. Since the motor's base is flat, you can easily rest the mixer on the countertop between ingredient additions. Though hand mixers are notorious for getting dirty, this appliance's surface wipes clean easily, and the beaters are dishwasher safe. 

Buy: Cordless 7-Speed Hand Mixer, $100
2. Cordless 5-Cup Food Chopper
Small food choppers are a lifesaver when you have to quickly prep ingredients that can be time-consuming or tricky to work with. KitchenAid's cordless chopper is perfect for small-to-medium chopping and food processing jobs, like making dips, salsas, and even whipping, while the cordless feature makes it extremely versatile and fuss-free to use. The five-cup work bowl is BPA-free and has a handle for keeping things stable while processing. The stainless steel blade chops and mixes at two speeds, and a whisk accessory turns out fluffy eggs and whipped cream. All of the parts are dishwasher safe for easy cleanup of even your messiest recipes.

Buy: Cordless 5-Cup Food Chopper, $100
3. Cordless Variable Speed Hand Blender
KitchenAid's cordless hand blender functions like their classic immersion blender but is much easier to handle since it's not weighed down by a cord. This is particularly helpful if you're blending a smoothie directly in a jar or pureeing a hot pot of soup or sauce (a single charge can puree up to 25 bowls of soup!). The powerful blender's variable speed is controlled with a trigger dial on the handle, so you can adjust it depending on what you are making and the kind of texture you want. Lower speeds and pulses will give you a chunkier result, whereas high speeds will yield smooth, silky purees and sauces. A bonus pan guard is also included, which surrounds the blade to protect the surface of your cookware when blending directly in pots or Dutch ovens. All of the parts, including the removable blender arm, are dishwasher-safe.

Buy: Cordless Variable Speed Hand Blender, $100