This KitchenAid Sale Includes Stand Mixers and Every Attachment That'll Take Your Cooking to the Next Level
We independently select these products—if you buy from one of our links, we may earn a commission. All prices were accurate at the time of publishing.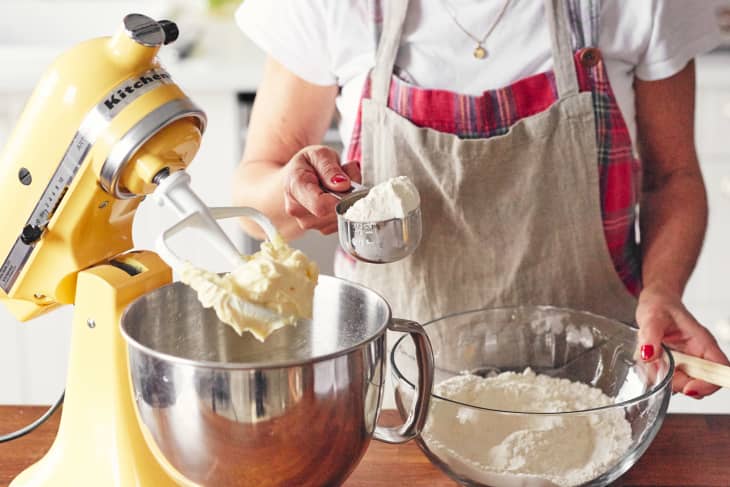 There's a reason the KitchenAid stand mixer is the most iconic of countertop mixers! Besides mixing, kneading, folding, and whipping ingredients like a pro, it's also major countertop eye candy and so sturdy that it'll be passed down through generations. But if the hefty price point has kept you from buying one, you're in luck: KitchenAid is offering a sitewide 15 percent discount on all countertop appliances from now until May 31 with code MAY15. And sure, you can nab a food processor or a blender from the brand, but since you've got the discount, might as well go for the most coveted kitchen accessory: a stand mixer! And while you're at it, check out the available attachments that help you slice and dice veggies, whip up fresh pasta from scratch, grind your own meat for flavorful meals, and more! Check out our top picks below.
Follow Topics for more like this
Follow for more stories like this
1. Artisan Series 5-Quart Tilt-Head Stand Mixer
One of the most popular KitchenAid stand mixers, the 5-qt. Tilt-Head Stand Mixer is equipped with 10 speed options and the ability to whip up nine dozen cookies at a single go! The tilt-head makes it easy to maneuver, and the added accessories like a dough hook, whisk, and beater give you the flexibility to whip up a storm with the push of a button. Plus, it comes in 39 yummy colors, including this sweet, subtle Pistachio.

Buy: Artisan Series 5-Quart Tilt-Head Stand Mixer, $323 (normally $380)
2. 3-Piece Pasta Roller & Cutter Set
It's relatively simple to get the dough together for fresh pasta. But things get complicated (and messy!) when it comes to working that sticky dough. With this three-piece attachment set, you can make fresh pasta within minutes. It's easy to use and takes up much less room in your cabinet than a stand-alone, hand-crank pasta maker. Simply feed your dough into the pasta roller for flat lasagna noodles, or switch the attachments and cut the sheets of pasta into spaghetti or fettuccine. Don't forget to pop open a bottle of wine and play some soft Italian music to really complete the experience!

Buy: 3-Piece Pasta Roller & Cutter Set, $170 (normally $200)
3. Sifter + Scale Attachment
Kitchn's Lifestyle Director, Lisa, loves this smart, time-saving attachment that allows you to measure dry ingredients by weight for more precision baking. The device also sifts the ingredients and slowly adds them to the bowl via a handy chute, which keeps things like powdered sugar and flour from going all over the place. It's truly essential for anyone baking in bulk these days. Bonus: The attachment comes with a scale plate, so you can even use it independently of your mixer. 

Buy: Sifter and Scale Attachment, $110 (normally $130)
4. 5-Blade Spiralizer
If you love your veggies and fruits, you'll appreciate this set of five (dishwasher safe!) blades that make meal prep breezy. Use the thin spiralizer for ultra-thin zucchini or carrot noodles, or the peel attachment to easily core and peel apples for a quick snack. And let's face it: Vegetables are a lot more fun to eat if they're in big Slinky-style swirls.  

Buy: 5-Blade Spiralizer, $85 (normally $100)
5. Food Grinder Attachment
You can grind your own meatloaf mix, blend herbs and pancetta into your meatballs, or even make your own sausage. Got some leftover brisket in the freezer? Add it to your burger meat! Yep, the food grinder attachment is an obvious must-have for carnivores. But the unit — which comes with fine and coarse grinding plates — can grind more than just meat! You can even use it to make falafel, relish, salsa verde…the options are truly endless!

Buy: Food Grinder Attachment, $51 (normally $60)
6. Fruit and Vegetable Strainer
Add even more power to the food grinder with this fruit and vegetable strainer, which removes seeds, peels, and stems to give you a silky, smooth purée. Make soups, baby food, jam, or even jelly within minutes. Plus, you can also use it to create a fresh fruit base for your summer cocktails. We'll raise a toast to that!

Buy: Fruit and Vegetable Strainer, $42 (normally $50)
7. Food Processor with Commercial Style Dicing Kit
Slice, dice, julienne, and more with this food processor that simply pops onto the front of your KitchenAid mixer. A lever on the outside of the unit makes it easy to go from thick to thin slices, and the extra-wide feed tube allows for larger items, so you'll spend less time cutting those potatoes to make sure they fit in the food processor. In fact, you'll spend less time cutting overall, saving time and your fingers.

Buy: Food Processor with Commercial Style Dicing Kit, $170 (normally $200)