Kitchens with Character: Trends Make Form and Function a Personal Thing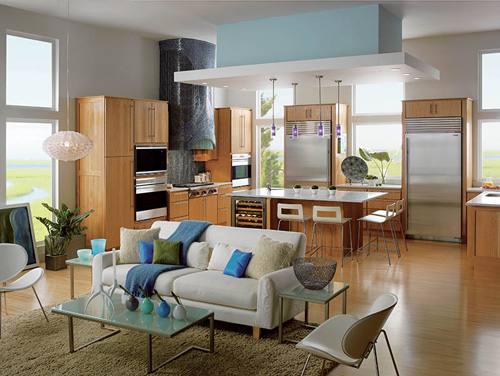 Ever been to a party where most guests congregate in the kitchen? Design trends in the past decade reflect this draw to what is now the home's social center (and now, the party begins in the kitchen!".
Many in the design community concur with the findings of The Kitchen Evolved: Emerging Trends in Kitchen Design, a report produced by renowned international designers Mick De Giulio, Jamie Drake, and Matthew Quinn in collaboration with Sub-Zero and Wolf. The verdict is in: the kitchen is the new living room.

Homeowners are prioritizing improvement to-do lists accordingly, devoting resources to making it a functional and fashionable living space that reflects the family's unique design persona.
As the once distinctive lines between the living room and kitchen have blurred, shopping for kitchen essentials is more fun than ever. A chandelier for the kitchen? Sure! Throw pillows that coordinate with your place mats? Absolutely.
Even appliances blend in with the décor, like integrated refrigeration models that are Sub-Zero's forte (go ahead; try to find the fridge in this photo).
Countertops, cabinets, hardware, tables and chairs, facades and islands - all have an aesthetically pleasing dimension that allows homeowners to give their kitchen an inimitable personality (i.e., who cares about the Joneses?).
Still prefer a traditional style? Check out this new take on a classic theme. For those keen on a clean, contemporary feel, this model kitchen fits the bill. Like something in between? This transitional kitchen may offer inspiration.
Browse award-winning kitchen photo galleries by style (or by size) to whet your design appetite.
Today's kitchens are all about lifestyle. How have you incorporated your family's design footprint in this high-traffic living space?
This post is brought to you by Sub-Zero and Wolf. Get kitchen design ideas at www.subzero-wolf.com.