Kohler's Cabochon Powder Room by Jamie Drake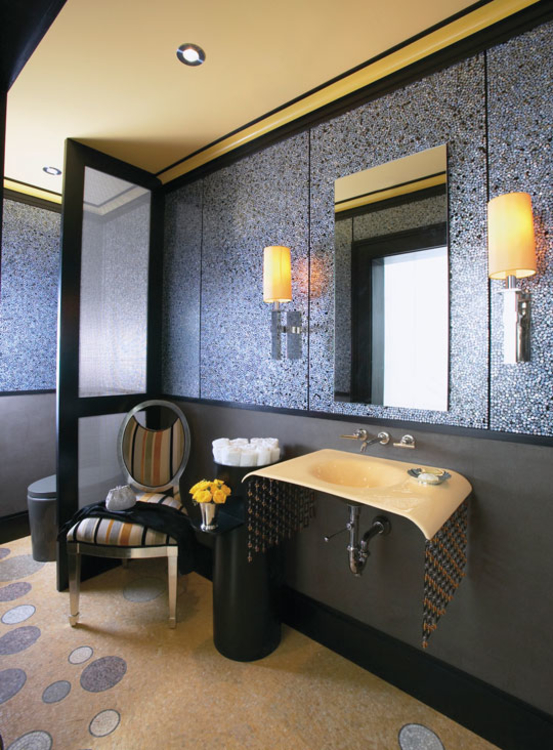 As we move to the end of our annual Fall Colors Contest on Apartment Therapy, who better to feature than color expert Jamie Drake? The renowned interior designer created this bathroom for the Kohler Design Center in Wisconsin using products from the KOHLER Purist® line and the Moxie™ sink. In addition to the color cred behind this bathroom, there are also a few green features. Click below to see how Drake used color, a few small space solutions, and water-saving fixtures to transform this narrow bath into a glamorous (and green) powder room...
>> Kohler Cabochon Powder Room by Jamie Drake
>> Jamie Drake Video for Kohler
As principal of Drake Design Associates in New York City, Drake is known for his use of vibrant hues. The color concept for this bathroom started with Kohler's Moxie™ wall-mount lavatory in Vapour™ Orange. Against a neutral background, the orange color is carried through the floor, the ceiling, and the upholstery.
Another theme tying the room together is the circle motif that appears in the custom mosaic floor, the glass beads hanging from the Moxie™ sink, and the round wall sconces. On the wall, what appear to be tiles are actually lacquered panels set with mother of pearl circles. The bathroom takes its name—Cabochon—from the word for a highly polished bead that's not faceted, but rather cut in convex form.
The sink is made from KOHLER Cast Iron, crafted of 93% recycled and reclaimed material, while the faucet is available with low-flow aerators that provide up to 30% water savings over standard faucets. On the toilet, Power Lite® flushing technology delivers the most powerful residential flush possible, with a twin touch actuator that saves an average household approximately 2,000 gallons of water each year. For more tips from KOHLER on saving water at home, click here.
To divide the toilet from the sink area, Drake used a stainless steel mesh screen. In a small space, the mesh material creates a sense of separation without blocking out light and air. Other small space solutions include the wall-mounted sconces, the reflective wall finishes, the large inset mirrored medicine cabinet, and the wall-mounted sink that appears to float over the floor.
The playful patterns on the floor, walls, and upholstery are balanced by the minimal design of the KOHLER Purist® line, including the toilet (Purist® Hatbox® toilet in Thunder Grey) and the faucets (Kohler's Purist® two-handle wall-mount faucet trim).
For more on Jamie Drake's design for Kohler Bathrooms, including a complete list of sources, click here.
>> Kohler Cabochon Powder Room by Jamie Drake
>> Jamie Drake Video for Kohler