An All-Black Tiny Trailer for the Sophisticated Traveler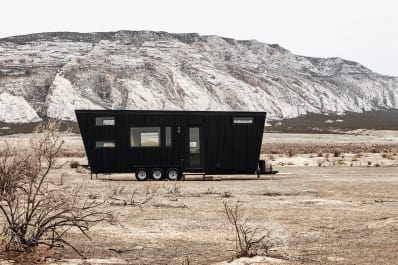 (Image credit: Land Ark)
Fashion experts can attest that a primary rule for wearing all-black is that it never goes out of style, and now there's a perfectly chic tiny house RV trailer by Land Ark that proves that longstanding clothing mantra also applies to residential design.
Dubbed the Drake RV, the eye-catching mini mobile home on wheels aims to make the experience of living on the road as comfortable as possible. For starters, the husband and wife duo who designed the tiny house focused on creatively maximizing the available 357 square feet of space as the RV comfortably sleeps up to six people and can accommodate an additional occupant with a pull-out sofa. The sleek, modern interior features two lofts and a flex room that functions as bedroom or an office. The 10-foot-tall ceilings and the walls are clad in white-washed pine that makes the most of existing natural light, however the RV is also equipped with dimmable LED can lighting. The trailer includes multiple USB ports and outlets throughout.
For privacy and energy conservation purposes, the windows and doors are covered with custom cellular shades. Waterproof vinyl plank flooring means less time worrying about how to clean up a spill and more time enjoying the beautiful interior.
The contemporary kitchen features a stainless steel freezer and refrigerator, accompanied by a three-burner gas cooktop and oven, a modern sink with a pullout spray faucet, upper open shelving, and lower cabinets and drawers. The bathroom contains a full bathtub and shower, all-black matte fixtures, a vanity with lighted mirror, and built-in linen storage. The lofts fit king and queen mattresses respectively and multi-position ladders. The designers have also managed to fit in a washer/dryer combo unit into the compact dwelling.
The Drake RV also boasts an aesthetically pleasing exterior. Cloaked in black metal corrugated siding, the silhouette of the trailer borrows ship design elements, making it an absolute standout among tiny abodes on the road.
Currently, Land Ark has one model available for immediate purchase for $139,900. Other customers interested in buying a Drake RV trailer in the near future can expect lead times of around three to four months.